The Berlin hip-hop crew BHZ (short for Bananahaze) have been stirring up the scene since 2018 with an eclectic mix of boom bap and trap. Creativity flows freely, as BHZ impressively demonstrate the multifaceted, high frequency nature of their performance, both as a unit and in solo projects.
From the end of July to mid-September 2022, the eight-piece phenomenon (five rappers, three producers) toured Germany. Designer Fabrice Wilmes developed the lighting and show design for the tour in cooperation with his colleagues from Normel Lighting and BHZ themselves, on behalf of tour organizer Landstreicher Booking.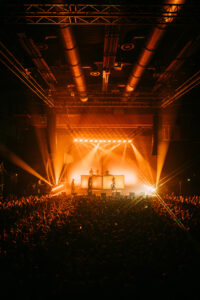 Wilmes's creative approach was to create a room within a room, in which expressive worlds of color could unfold. For this, 48 of GLP's JDC1 hybrid strobes served as the basic building block and workhorse.
"The look of the set didn't need to be too technical, but rather to visually support the 'good vibes' emanating from the five rappers on stage," he says. For this purpose, the designer provided 24 JDC1 as a floor set with another 24 of the versatile devices in the rig.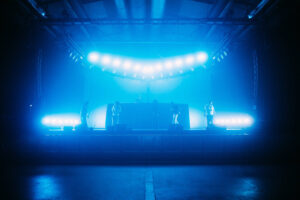 "The JDC1 provides the basic light and colors, as well as the alley light. But the fixtures also serve as an audience light/blinder and of course for strobe and other effects," says Wilmes. He adds: "With the JDC1, I can precisely create those clearly defined color spaces that I imagined for BHZ. Their high output also allows truly spherical moments by creating large, bright color spaces. On the other hand, the devices are also good for creating visual lines.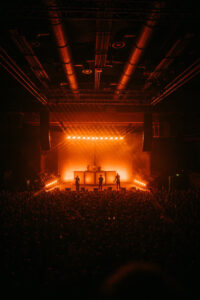 "During the design stage, I made sure to use as few different lamp types as possible. This makes my life easier both in pre-production and during live shows," the designer continues. "I tested a few other fixtures in advance, but was not convinced for various reasons. Using the JDC1 means not having to make any compromises in terms of design because they are so versatile. At the same time, I had a very homogeneous lamp image."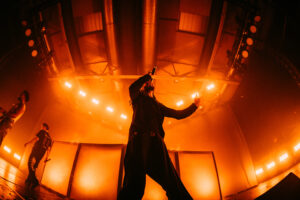 The hybrid device, with motorized tilt, provides options for the designer thanks to its high-performance strobe line in combination with two equally ultra-bright RGB LED surfaces. "For me, the JDC1 is really dominant: a fixture that does exactly what it's supposed to… and where it needs to!" Wilmes adds.
What Wilmes appreciates about working with GLP is their open approach and exchange of ideas. He cites Andreas Brandt in particular. "For GLP, it is not just about the next sale. They know how to listen and ask the right questions… and that's worth a lot."
Photo credit: Akutphoto/Leon Wiedemann