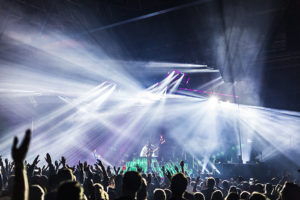 Just in time to celebrate their 25th anniversary, and after six years of stage absence, German rap group Beginner are back. Eizi Eiz, Denyo and DJ Mad sound as fresh as ever with their brand-new album, Advanced Chemistry. Their fans had to wait a long time for a new album, after it had been speculated over and over when the new release from this Hamburg trio would actually be available. The first signs suggested 2010, then 2011 and finally 2012 — but still the fans had to wait a further four years for the release.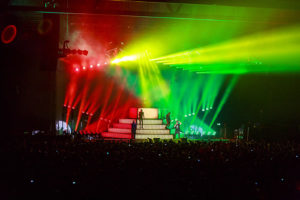 But the wait was well worth it, and with the arrival of the album in August 2016, the tour dates were also announced. The first leg of 14 dates toured Germany in November and December and from March 2017 onwards, a further 16 dates have been scheduled, with box offices reporting almost sold out venues already.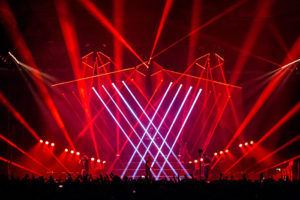 Bertil Mark is responsible for the lighting design on this tour. He has dipped extensively into GLP's portfolio — in particular the new GT-1 hybrid lamp, of which 70 fixtures alone have been used. "I like the feel and punch of these multi-fixtures. I was traveling with Rammstein for the first time in the summer with these lamps and their flexibility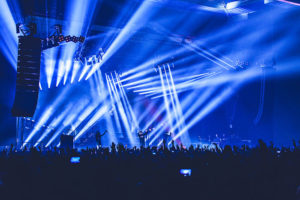 convinced me immediately. It's no problem at all to produce either tight, rich beams or nice mid-air effects," says Bertil Mark about the GT-1, with its impressive continuous zoom ratio of 2.5 to 55 degrees.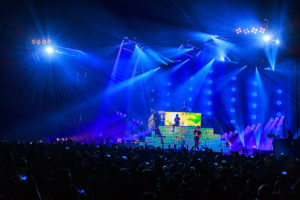 In addition to taking advantage of the 440 watt OSRAM SIRIUS HRI discharge lamp, Bertil Mark is also setting the standard in his use of GLP's LED models from the impression series during this tour. The fixture count shows 56 impression X4 Bar 20 and 24 impression X4, both of which have long been a part of Mark's portfolio on different designs. "The Impression X4 Bars I have used for quite some time, but I am always fascinated by the effects that are possible," he says. For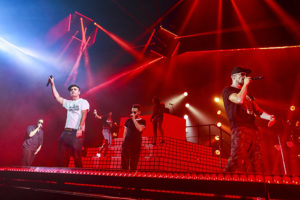 Beginner, the Bars are used in different locations — on the stage edge in the rig, and in Diamond-shaped design elements directly above the artists. I think it is nice to be able to make interesting light angles," says the designer in explaining his idea.
A total of 24 impression X4, each containing 19 RGBW LEDs and a 7-50 ° zoom, have been tripod-mounted by Bertil Mark on the sides of the stage. These provide color and movement throughout the set.
Photo Credit: Paul Gaertner