GLP comes to LDI 2013 with a host of brand new products and preview showings this year.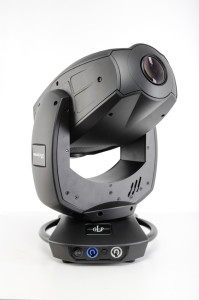 First is the Volkslicht Spot which, following its recent launch announcement brings GLP's award winning LED technology to a smaller spot fixture, perfect for shorter throw distances or those on a cost conscious budget. 
The feature set of the Volkslicht Spot includes a motorized iris, rotating gobo wheel with 7 positions plus open, a static gobo wheel with 9 positions plus open, a rotating prism, and motorized focus all within a small body so that it can be placed discretely. The output features a beam angle of 15 degrees, whilst the weight has been kept to just 33 lbs.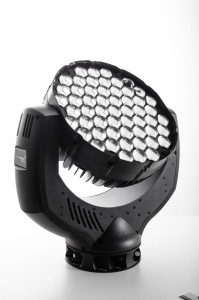 Making a preview showing for the first time in the USA, is the impression X4 XL. Producing an amazing amount of light output, the impression X4XL uses 55 RGBW LEDs and offers a zoom of 7° to 50°. It works equally well as a narrow beam light – with hard edge capability – or as a smooth wash light with even coverage at wider angles. The X4 XL also works as an effect unit with full pixel mapping.
The X4 XL's output is a fully homogenized RGBW color system with additional variable CT control. Also featured are a variable speed electronic strobe, smooth full range dimming, 16 bit pan and tilt and a stylish baseless design. 
Also on display will be the impression X4S which recently won the WFX Award for best moving light. This compact version of the X4 offers a flexible RGBW output with a zoom range of 7 to 50 degrees in a compact body weighing just 12 lbs. and measuring just 12 inches tall.
GLP US will also be showing brand new products from its Scenex Lighting range which focusses on LED product applications for scenic and special use.
Making its world debut at the show, is their new LED Pixel Tape. This new flexible LED strip solution takes things to a whole new level by adding individual control to each pixel in a tape system that has a high resolution and bright light output.
The Pixel Tape features a pitch of 31.25mm and is available in different lengths, with both black and white PCB backing.
LED pixel tape is attached quickly and easily via its strong 3M adhesive backing. As with all LED tapes in GLP's Scenex range, their LED Pixel tape offers an IP65 rating with silicone coating allowing the tape to be used outdoors, or in other environments where it is likely to get wet.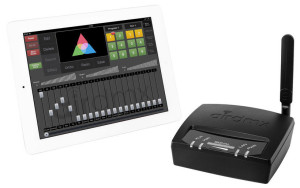 Finally, and also making a premier showing in the USA, is AirDMX is a comprehensive single DMX universe controller that runs from an iPad  over WiFi, and is capable of running any kind of DMX fixture from individual dimmers to fully featured moving lights. A free to download App runs from a standard iPad (sold separately), whilst the accompanying WiFi DMX box is mounted with the fixtures. AirDMX supports a full library of fixtures, and the ability for users to generate their own files. AirDMX is a simple and intuitive solution without the cost and hassle of other wireless control systems.
Cosmic Truss will have its own stand at LDI for the first time on 2013, establishing its continued growth in the Americas. Cosmic Truss will be showing a number of new products this year. Cosmic Truss is located at Booth # 360.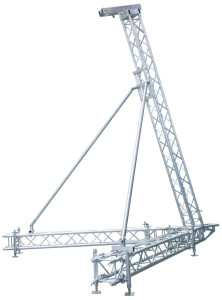 A brand new range of Cosmic Truss Wind Up Stands will be shown for the first time at LDI 2013. Ranging in height and weight capacity, the range features a full set of products and accessories that are certified to the BGV-C1 standard to assure users of their quality and durability.
Also on display for the first time, will be one of the range of front loading speaker towers, the PA-500. The PA-500 model has a maximum lift height of more than 24 feet, with a loading of over 1,100 lbs., and being able to withstand wind speeds of up to 44 miles per hour. The PA-1000 has a greater capacity and adds to the range.
Cosmic Truss will also have a complete range of safety barriers making their debut at the show. Straight barriers, corner barriers and gated sections, with special variant versions form a complete range of aluminum crowd safety barriers. Strong, yet portable the barrier system also features storage and transport carriers as part of a full deployment package.