Looking to create a new stage ambience for country legend Toby Keith, long-time LD Seth Jackson has become the first production designer to use GLP's new impression X4S LED wash light.
He has specified 83 of the compact 'S' fixtures, which introduce a new level of functionality, incorporating RGBW homogenous color mixing, a 7 to 50 degree zoom range and high output level within a smaller footprint than the original X4. Supplied by Bandit Lites, they dominate the set for Keith's current Hammer Down tour.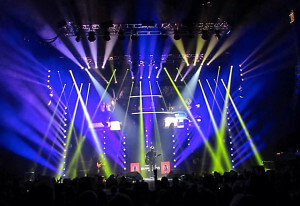 Jackson had been seeking a fixture with the ability to travel in the new Bandit GoGo Truss, a modified version of the 20.5" standard truss, developed by Dizzy Gosnell and Mike Golden (hence 'GoGo'). "We needed the lights to sit in the center of the truss and keep our vertical towers centred with weight," he explains. "GoGo allows the lights to simply live inside the truss (six X4S per 10ft section), making them much easier to manage and much safer. With the reduced cross members the lights have a clear shot."
Since they form the core of the show the technical attributes of the X4S needed to match the physical advantages. "I was completely impressed with the X4S," Seth admits. "It is bright, it is fast, the color system has a lot of flexibility, and they are rock solid.  
"They are the most striking visual element, in fact they are the 'set'."
There was a clear reason why this was so important. Since the tour has been visiting more out of the way places — rather than the well trodden shed circuit — a scalable production offering fast build time became a clear positive. "From the earliest conversations about this tour we knew we had to have maximum flexibility, as low a power draw as we could get away with, and a lot of ability to shift trim heights, stage widths, and so on," says the designer.
"We created a show that could stretch wide, narrow down, gain height, or squeeze down without the look changing. With everything contained in those trusses it has become a much more simple process."
The design itself is based strongly on a linear vertical line of fixtures — using just a few support trusses. It's certainly a far cry from Toby Keith's dramatic concept stages in the past. "After several years of doing spectacles on a grand scale, including a 24ft tall jukebox, everyone had a sense that we needed to drastically take a different direction," Seth Jackson explained.  
"I turned to my co-designer, Nathan W. Scheuer, who had never seen a Toby show, and said to him 'don't study anything, don't look at past shows, just sketch your ideas based on the music.'  
"We decided to play on these vertical elements, with virtually no set, and to reduce the visual appearance to smaller profile lighting fixtures in greater quantity, on this plane."
Lighting director (Eddie 'Bones' Connell) has taken the lead on programming the actual songs: having been on the road with Toby for 15 years, he knows the material better than anyone.  "He has a tendency to want to 'shake the heads off those things', as he puts it.  He tried hard, but no avail!
"What Bones is doing with them is amazing.  We are getting such giant looks out of this relatively small rig, and such energy from their speed and response.  
"The other great thing about the X4S is power.  What we have been able to save having 83 of these guys instead of more traditional fixtures is extraordinary."
The tour itself kicked off in Ozark, Arkansas, on June 8, moved across the Midwest before taking in some of the East Coast's summer country music festivals. The tour comes to a halt in Indianapolis on September 7.