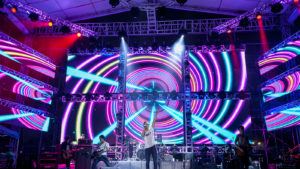 With the brilliant Sun Nan headlining, alongside artists such as Jordan Chan (Chan Siu-Chun), Guangzhou based Ruisheng Lighting & Audio fielded an array of cutting-edge LED technology from GLP, for whom they are the Chinese distributor, at the recent ZhaoQing Dinghushan Music Festival in the province of Guangdong.
The sound and lighting company welcomed the opportunity to participate and equipped the main stage with a series of high-output products from the German manufacturer's X4 range.
These included multiples of X4 LED heads (featuring 19 x 15W RGBW LEDs), the larger X4 L (37 x 15W RGBW LED), X4 Bar 20 (20 x 1-meter long lighting battens) — and other new generation fixtures.
Said Ruisheng Lighting & Audio's Jianwei Chen "The GLP effects added brilliant color and lighting stability to the set and produced an outstanding and eye-catching performance."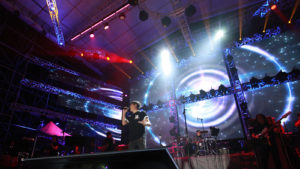 And GLP's General Manager, Asia, Michael Muenz, added, "I am pleased to see that the unique characteristics of our fixtures are finally being acknowledged in such a competitive market as China. I would like to thank Jianwei Chen and his team for promoting our fixtures in China with the utmost effort. "