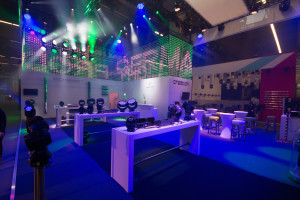 GLP entered this year's Frankfurt Prolight+Sound Show on the crest of a wave and by integrating its evolving portfolio of products into a carefully thought out, fully pixel mapped presentation (incorporating sister company G-LEC), they clearly set out their intent.
Having firmly established their impression platform as the market leader in LED moving lights they have this year branched out into a versatile batten in the form of the X4 Bar 10 and double length X4 Bar 20 — which perform a myriad of functions from a conventional cyclorama to a wall washer and mid-air beam sweeper.
Aside from introducing the local market to these bar lights — which are already being highly specified on top tour riders — GLP also reports that the new impression X4 L was extremely well received by LDs who could immediately see the creative possibilities offered by the pixel mapping function. In fact over 200 fixtures have already been specified for use on a single blue chip event — part of a large initial market demand for the product which has seen orders for over 500 fixtures placed by major rental companies.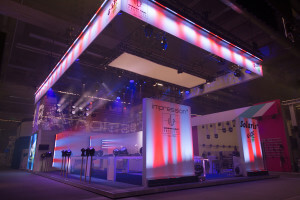 In addition, 120 of the larger X4 XL heads were sold to two dry hire companies alone, ensuring that more of these fixtures are now available for general use in the marketplace to meet the increasing demands. 
GLP also presented two versions of their new inflatable domes: one designed for the smaller X4S / X4 fixtures and one for the Spot One / Wash One profiles. These incorporate pressure sensors that ensure the correct inflation pressure is maintained at all times, and should anything fail, then power to the fixture will be cut. Small, lightweight and fast to deploy, they are compact for transport or storage when not in use and will house any unit that fits within the technical specifications.
Finally, GLP's impression Laser was another product to be well received at the booth.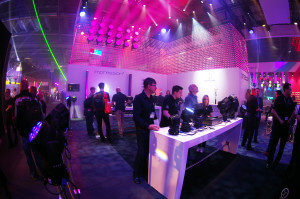 Summing up the show, Mark Ravenhill, president of GLP US Inc., said, "Our presentation this year impressed customers and distributors from around the world, who could experience the X4 Bar, impression X4 L and G-LEC into fully-integrated lightshow presentations that they could thoroughly enjoy.
"The stars of the show were probably the X4 Bars which we were able to show in a multitude of applications — demonstrating their design features such as their seamless pixel spacing across multiple units, wall washing capability and mid-air power. Customers could clearly see the all encompassing package that the X4 Bars bring to the market in what is another breakthrough product."