The progressive Bloomington Center for the Performing Arts (BCPA) in Illinois recently carried out a technical upgrade that has seen a number of GLP's impression Spot One and Volkslicht Zoom LED fixtures replacing traditional tungsten heads.
These were supplied by GLP dealer, JR Lighting Design, Inc. following an experiment by the venue's technical manager Rodney Stickrod to see whether the new generation of LED lighting was technically capable of providing a full theatrical alternative.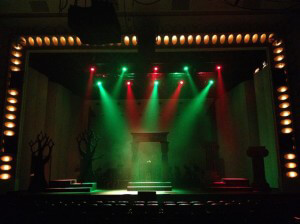 BCPA had wanted to make the upgrade in its newly renovated 1,200 seat main performance auditorium. Having seen the GLP fixtures at LDI in Orlando, he was introduced to Jason Reberski, President of JR Lighting Design Inc., who set up a demo.
The traditional tungsten wash system, used primarily in saturated colors, consumed thousands of watts of electricity. "Aside from energy savings, a brighter, more energy-efficient, flexible automated fixture system would also give Rodney and his team the ability to reposition the fixtures and change their beam angle," rationalized Reberski.
He was able to recommend the Volkslichts since he utilizes them in his own production rental inventory. "They are quiet in operation and their performance has been flawless", he says.  "The demo incorporated the Spot One, which to the best of my knowledge is the world's only 400 watt RGB-powered fully-featured automated profile luminaire."
The BCPA staff were immediately impressed. Said Rodney Stickrod, "I knew the power of the LED fixtures was getting close to being truly usable in a theatre application but I was not convinced until I saw the GLP fixtures in our own space."
"The Spot Ones we use more as a traditional moving fixture with all the flash we can get. But with the ability to soften the focus and change the beam angle it is a wonderful fixture for a special in a very nice moment in a production."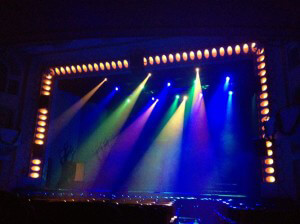 In addition to 'specials', with gobos and textured effects, the Spot Ones are projected on scenic pieces or on the BCPA's massive cyclorama. The animation wheel is an excellent feature allowing for non-linear water ripple or fire effects, and coupled with the LED engine and the designer's creativity, a myriad of effects can be created.
The Volkslicht Zooms are used primarily for their high intensity saturated color. For music events with exposed lighting rigs, they can be used as blinders or beam lights, and as back light in a concert setting, while the combination of RGB color mixing, zoom, and repositionability make for a very flexible system, note the two designers.
Says Stickrod, "The most exciting thing to me about this fixture is the ability to also use them for ballet or traditional theatre back light. When in a flood setting they are equal to a nice Fresnel fixture. And of course the ability to pick any color in the world to help set the mood is nice as a designer."
Other points noted by both men include the vibrant and intense colored light output, the zooming functionality and attractive price points — and since BCPA stages more than 400 performances a year — durability was also an issue. These combined attributes enabled BCPA to secure 15 Volkslicht Zooms and five Spot Ones for the install.
Rodney Stickrod says that visiting LD's have so far been impressed, remarking on the speed of movement and quiet running of the Volkslichts. "In fact we hardly ever hear the GLP fixtures — so far they have been amazing in this factor."
As for Jason Reberski, he says GLP had been "a joy to work with", and the support had been excellent. "The logistical side of GLP is a well-oiled machine and things like shipping, tracking, and delivery are a breeze."