Charly's Checkpoint add G-LEC Phantom for impressive stage backdrop.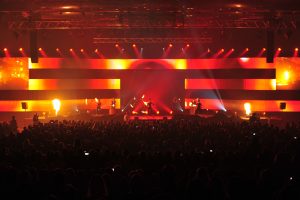 A glitzy party recently took place at the Schwarzwaldhalle in Karlsruhe, to celebrate financial service provider, ASCENT AG's 20th anniversary. This was masterminded by Christian Moran, head of production for event technology provider, Charly's Checkpoint GmbH — who had the opportunity to specify GLP's new Volkslicht with zoom capability.
The multi-purpose facility, which was constructed in 1953, is an impressive size — but mainly it is the amazing architecture that characterizes it, and makes it suitable for corporate events such as this.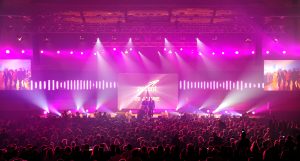 "On the one hand, we were fighting the difficult acoustic in the hall and on the other, there were few possibilities to install heavy equipment on the aesthetic, gently curved ceiling" recounted Moran. Nevertheless, the Dettenheim-based company made the best of it, and for the stage and set design, they used mainly a ground support system. "We also made use of the Schwarzwaldhalle's house truss — but for the necessary front light and PA, we flew additional trussing in front of the stage" he explained.
However, the core of the set design for the anniversary event was the stage background. A gently curved arc of 120 G-LEC Phantom 30 frames stretched nearly over the entire width of the hall. In the centre of the stage was a protruding LED screen, with further projection screens at stage left and right.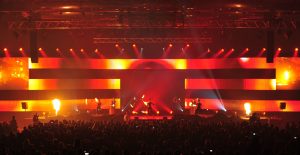 "During the course of this event, many visuals, videos and clips produced in advance were used," he said. "In fact right from the start, we intended to create diversity by using different replay media.
"The contrast between the projection, the high-resolution LED screen and the expansive G-LEC background offered a wide scope of creativity as well as many new ideas for the operators."
For the first time, GLP's new Volkslicht Zoom was utilized in the Schwarzwaldhalle, with 12 of the LED lights installed in the front stage area by Charly's Checkpoint's lighting designers.
In the opinion of owner and director Herbert Langendorf, who already has the GLP Volkslicht without zoom optic in the company's inventory, the new zoom version represents a significant upgrade. "Regarding the colors, the Volkslicht Zoom matches the standard of the entire impression range, and concerning the brightness, the zoom optic version makes this really perfect."
Christian Moran agreed, "I can use both the Volkslicht and the impression at the same time and fully utilize all features." Besides the 12 brand new Volkslicht Zoom, 50 additional impressions (impression 90 and impression 120 RZ), positioned on and above the stage, were integrated into the background to guarantee a cornucopia of different lighting effects.