GLP reported its best PLASA Show footfall for a number of years. According to the head of GLP UK, Simon Barrett, this was partly because of its unmissable stand – immediately inside the entrance – but also because it placed a clear focus on promoting the new impression X5 product family integration – and the quality and integrity of light emanating from its new color engine. But equal focus was placed on GLP's highly professional, and ever-expanding, technical and customer support team.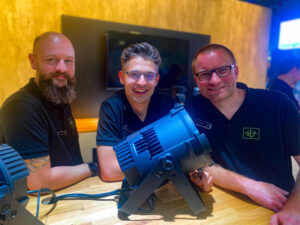 The sophistication was manifest in Andrew 'Twiggy' King's choreographed lightshow, which demonstrated the entire impression X5 Family. This included the impression X5 Wash, impression X5 Compact, X5 IP Bar, X5 IP Maxx, and impression X5 Bar 1000 – the last two being shown in the UK for the first time. This was played out to Ludovico Einaudi's haunting and beautiful 'Divenire' on a purpose-designed stand for which GLP's German set builders were used for the first time.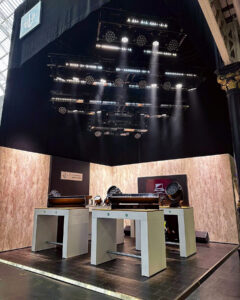 The serious business, of course, was dressed in the aspic of fun. This year GLP separated its hospitality area, where many visitors indulged in the 'Stein of Fortune', a play on the 'Wheel of Fortune' and an opportunity to keep the lime green theme going. Another popular and ever-present co-opted member of the team for the past five years has been Henry the Barista. Flamboyant and a real ambassador of the arabica bean, it's highly improbable that any other stand could have served better.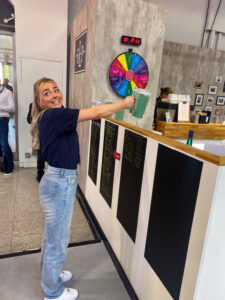 "We always book the coffee on the proviso that Henry comes with it," smiles Simon Barrett – acknowledging a high-class wet hire in every sense of the word.
As to the lightshow, he explains: "Twiggy was tasked with showing the beauty of the impression X5 and integration of the family members… and so to illustrate this we took a beautiful piece of music far removed from the usual EDM."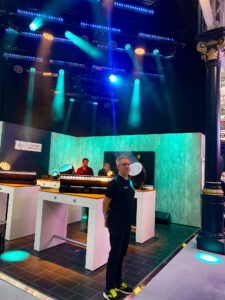 And as for his support team, Barrett says: "In Greg Westwood, Nigel Bennett, and Craig Gravett we believe we have the leading tech team in the industry – no one else has that skill base. We also welcomed our new key account man, Paul Fielder, who worked incredibly hard throughout the show, alongside the ever-present Kerry [Tymms]." GLP UK also had international support in the shape of Kasper Gissel and Michael Feldmann from the parent company in Germany, and Mark Ravenhill, president of GLP US.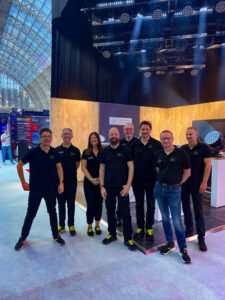 And it was the international aspect that most pleased Simon Barrett. "Although PLASA is no longer truly an international show, there was nevertheless a great turnout from overseas," he concludes. "In fact, overall it was the strongest PLASA we've had in a long time, with more visitors than previous years."