Now approaching a decade of designing concept light shows for Manchester-based pop rock band The 1975 – earning him a prestigious KOI award in the process – Tobias Rylander has again delivered an inspired and original look for their current world tour, with assistance from over 100 of GLP's impression FR10 Bars.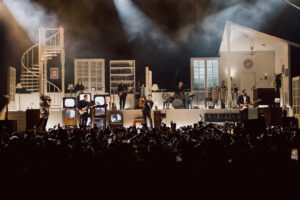 After completing a handful of late autumn dates in the States, the band headed back across the Atlantic for the start of the new year for arena dates in the UK and Republic of Ireland, before taking on Europe and other parts of the world.
Aptly named At Their Very Best, the ambitious live show combines imaginative storytelling with choreography, wrapped within a set design centered around a sprawling two-story house.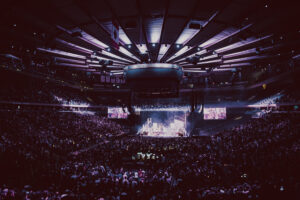 According to Rylander, lead singer Matty Healy has always had a clear vision for the band's albums and tour campaigns, dating back to the beginning. "They have come a long way since we first met in LA during their 'black and white' era," he reflects. "Matty and I challenge each other in a deep and creative way – he always pushes me beyond my comfort zones and sometimes over the edge. I feel like he trusts me to understand where he is going with his ideas, his references, and his way to communicate his art to the concertgoers.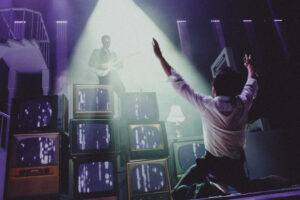 In support of their first album, Rylander had conjured up a show with graphical 'volumetric' aerial effects, which began their love affair with using video as the main lighting source. But all that has now changed, with the monochromatic 'art installation'-type canvasses of old being replaced by more traditional theatre mood lighting values in a minimalist setting. Having long been a fan of GLP's ubiquitous impression X4 Bar 20, the LD jumped at the chance to replicate lines and curtains with the brighter FR10 Bar, where he could use the individual pixel zoom creatively. These were supplied by Christie Lites, which has supported Tobias and the band over many tours.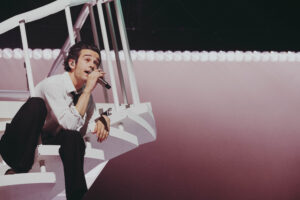 Each Bar contains 10 x 60 W RGBW LED sources that color match to GLP's X4 and FR series – and they have been deployed judiciously. With limited truck space, his choice of fixture also needed to reflect sufficient versatility to fulfil a number of functions, including framing the entire stage. "I wanted a background and silhouette to the main theatrical set, but also a fixture that would work as an effect light, and give us movement and beat when needed," he explains, "so we are using the FR10 Bar in all ways possible."
A row upstage covers the full width of the stage, both at floor level and in the flown truss above it, continues Rylander: "This is replicated on both sides so that the set is completely 'boxed in' with light, especially when we tilt out the upstage truss line to become a kind of 'ceiling' when we are able to produce sky and cloud effects in a theatrical way." The interplay of these linear light curtains expertly articulates the roof and walls.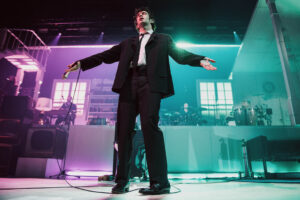 Commenting further on the impression FR10 Bar's multifunctionality, Rylander notes that "the sharp layer of light cuts through smoke and haze like a blade", while in a separate mode, they can then be zoomed out as a full color wash for the backdrop drapes. "With this fixture you can just do everything brighter and bigger, while the individual zoom makes it perfect for larger venues and stadiums. I have always liked to run video or bitmaps through these battens to make them look really organic."
The designer was assisted by regular creative collaborator, programmer Michael Straun, who built the show in Depence² while Tobias was designing it. The two men had earlier collaborated on the extravaganza in Berlin known as the Riot Games Valorant esports final, where 96 of the impression FR10 Bars had starred among a cornucopia of lighting, and provided the best possible introduction of the fixtures to the two concept designers following their release.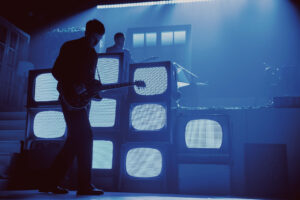 Back with The 1975, Straun worked with the band's long-term LD, Darren Purves, to set up the show file, based on Purves' inside knowledge of an ever-changing set list. The pre-viz system duly moved to Rock Lititz where they met touring LD Franki McDade, who constantly keeps the show file updated in Depence² to handle any changes along the way.
And so the impression FR10 Bar is clearly proving a winner for all concerned. The final summary comes from Tobias Rylander himself. "[The FR10 Bar] is a glorious effect," he exclaims, "and I have nothing but praise for it."
Photo credit: Jordan Hughes