Pan European based dry hire specialist, AED Rent, has announced that it has made a further substantial investment in the impression series of LED based fixtures from German manufacturer GLP German Light Products.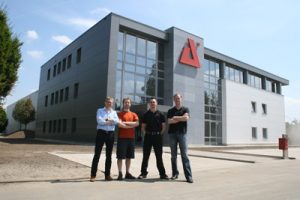 AED Rent are investing more than 1 million Euros to add to their existing inventory with the majority being used to increase their level of the impression RZ 120 Zoom fixture by 300 pieces, and to make an initial investment in 100 pieces of the new impression Spot One, GLP's brand new high powered RGB LED Spot fixture.
With this new investment, the total inventory of GLP moving lights at AED Rent will be in the region of 2,000 fixtures. Glenn Roggeman, CEO of AED Rent commented "The demand that we have seen for the GLP impression range, and particularly the RZ 120 has been incredible and so investing in more was a simple decision for us. We have found the entire GLP range to be a reliable and hard working product range that all of our customers enjoy using, and for us it makes doing business easy."
Kasper Gissel, Business Director of GLP added "AED Rent are one of the foremost rental support companies in the world – in every sense, and we are proud to support them with products that their customers are asking for."
The head office of AED Rent is a new 20,000 square metre facility in Willebroek, Belgium which has been designed to be as carbon neutral as possible and features the latest building techniques including LED lighting, heat exchangers, water recuperation, solar panels, a D-Class ventilation system, and the latest insulation products on the market.
Glenn added, "Investing in new LED lighting fixtures for the entertainment industry is a natural part of our contribution to a better carbon footprint without compromising on any part of a production, and I believe that economy and ecology will go hand in hand in the future. This is one reason why we are going to continue making substantial investments in energy efficient lighting."