Lighting designer, Lawrence Upton recently extended his long relationship with Smashing Pumpkins when the band took first to the American tour circuit, and then Europe, in support of their ninth album, Oceania.
However, it was the first time he had used GLP's impression platform, building 20 of the compact, lightweight Volkslicht Zoom LED heads into the set. And it certainly paid dividends.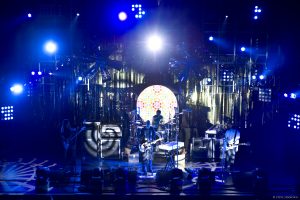 Taking responsibility for the full stage design and dynamics, he set out in search of the latest equipment available "to suit the vibe of the tour", opting for the GLP fixtures after they had been recommended by Kevin Forster at Epic Production Technologies, who supplied the rig for the American leg, and Craig Gaff at PRG.
The tour itself was picked up across the Atlantic by Neg Earth, who maintained continuity with the GLP heads — ensuring that they performed as flawlessly in Europe and the UK as they had in the States.
The LD is equally at home working on both continents. For having grown up in the north of England he later moved to America specifically to work with the bands coming out of the States, and is today based in Chicago (where the Pumpkins formed back in 1988).
For the Autumn tour, he worked alongside lighting programmer, Brad Schiller, with whom he has collaborated for a number of years. "This was the first time I had used any of GLP's fixtures, and I must say I after being recommended them I was most surprised and impressed when I saw them," says the LD.
The Volkslicht Zoom combines the best technology features with the footprint and weight of a small and unobtrusive fixture. The fixture has a motorized zoom, changing its beam size from 10 to 26 degrees, whilst maintaining a strong output. Using 60 Luxeon Rebel LED's in an RGB configuration to give a broad mixing palette of colours, because of its size and weight, Volkslichts also have incredible pan and tilt speed.
In this context they were used to replace the traditional discharge wash light on a scalable set — designed to enable sections to be removed, depending on venue size, without sacrificing the dynamic. Providing the basic color for every scene, the Volkslicht Zooms had the desired effect of creating a good solid wash that could change color and position very quickly, and operate problem free throughout the two legs.
"Although there was no particular requirement to use low-energy fixtures, this was certainly an added bonus, which allowed me to use more Volkslichts on the rig."
Overall, he said, he was delighted with the performance of the fixtures. "They certainly exceeded my expectations and I definitely see a role for these on shows in the future," he summarized.