At the recent LDI Show, GLP focused on giving some 'real-world' exposure to the JDC Line – now gaining the attention it deserves after the Covid-19 pandemic somewhat choked its initial launch.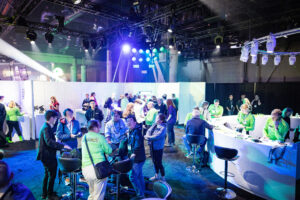 They were fortunate to have the services of one of the hottest LDs in the industry, Nate Files, to mesh the JDC Line together with the new impression X5 in a mesmerizing, beautifully programmed, integrated lightshow which beckoned visitors to the booth. Files is well familiar with the GLP culture, having been part of the creative team that brought its award-winning large-format shows to life.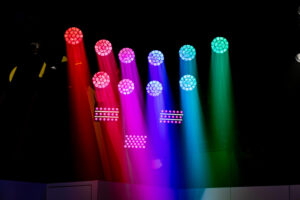 Of the decision to reinstate an active lightshow, GLP's Mark Ravenhill says: "After 2019, we agreed that we wouldn't do any more of these. But when this year came around it became obvious that we needed to give exposure to the JDC Line – we knew that to show it to its full extent, we needed it to be in quantity and programmed well. So, I called Nate and luckily he was able to squeeze us in between some high-profile projects. It was a great catch, as he knew exactly what we needed and how the JDC Line works to optimum effect."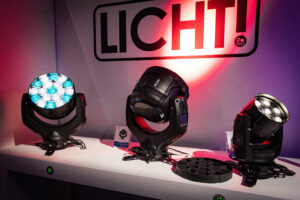 In addition, there was plenty to excite LDs who had the opportunity to get first look at upcoming potential blockbusters, as GLP previewed the impression X5 IP Bar, the impression X5 Compact, the XDC1 IP Hybrid, and XDC2 IP Wash. From FUSION, heavy focus was also placed on the new FUSION X-Par 12 Z IP65-rated unit with motorized zoom (affectionately known as the 'Oom-Par').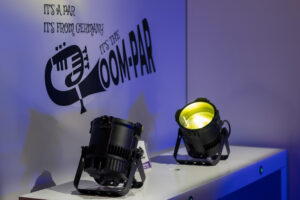 GLP Inc. was also representing Scenex Lighting and showed the latest range in its scenic LED tapes, including the new Shadow Line system, which uses a housing that totally blends into the background when not in use.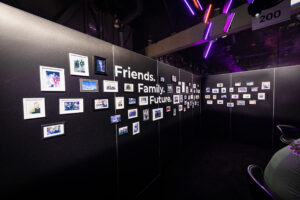 This year's booth had been a triumph all round for the company, acknowledged Mark Ravenhill. Having been accoladed with Best Booth Design at LDI last year, GLP's team, led by AnnaLise Laundrup and Carl Wake, had a lot to live up to – and they brought it home with flying colors.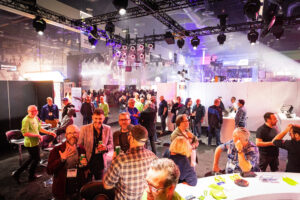 The theme this year had been 'Our Lime makes the Difference', in reference to GLP's extended RGBL color palette, which was also reflected in the lime-colored livery of the staff.
This made for an eye-catching and ergonomically designed area that ensured smooth traffic flow for the high volume of visitors constantly passing through.