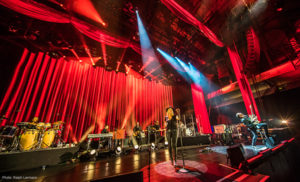 When award-winning German pop and R&B singer, Sarah Connor, started gearing up last autumn for her Muttersprache tour in the DACH countries, experienced LD and production designer, Bertil Mark, was entrusted with lighting design duties.
"We first played a theatre tour and really liked the intimate feel," he said. "So when we moved up to arenas this year I tried to 'resize' the show to maintain an intimate setting for her and her band."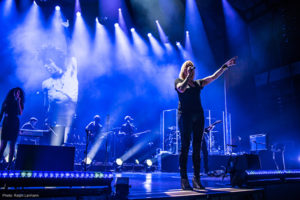 Helping him achieve this was a combination of GLP's X4 (Tunable White) LED fixtures and 32 of the new X4 Bar 20 battens. With the Muttersprache album having gone platinum, the shows were performed entirely live, with no computer based backing tracks. Thus Bertil decided to create a visually slow moving vibe to pick out the music accents, with a combination video/lighting set where the video walls acted more as a scenic digital backdrop.
An exponent of GLP's evolving and industry-leading LED range since the original impression 90, it has been the arrival of the X4 family that has really excited him. "I have enjoyed using the X4, and last year I started to work intensely with the X4 Bars," he said.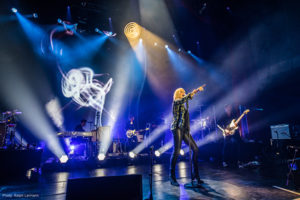 "Since I love using floor PARs, I found the white X4 a great creative extension of this effect. The X4 Bars I like because on the one hand they can be used as classical drape and cyc lights, but on the other hand they are a highly creative pixel-based FX light. When they were introduced there was no other fixture like it, and they work extremely well."
On this tour, all the GLP fixtures are used on the ground — the X4 fixtures themselves behind the backline and in front of the set, used both as accent
lights and to highlight other vintage moving mirror fixtures. The X4 Bars can be seen lining the catwalk to the 'B' stage, as well as highlighting the red curtains and providing uplighting for the solo musician positions.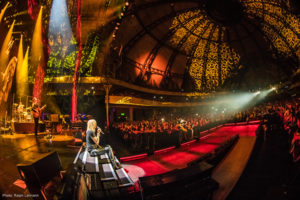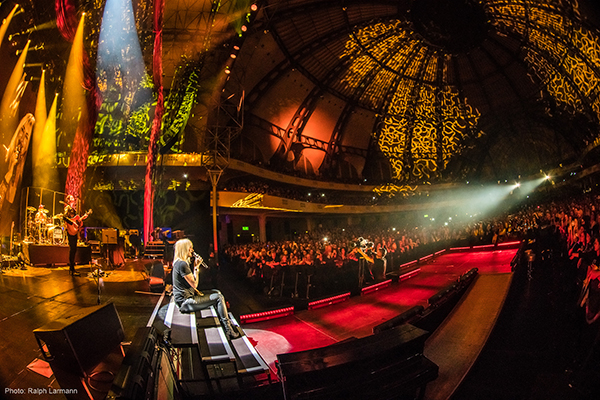 GLP's powerful LED solutions certainly held their own alongside the large amount of discharge fixtures on the stage. Bertil summarizes the benefits of the GLP fixtures thus: "Because as designer/director I play the show live to the music I am able to create even more moods in real-time. I am very happy to have had the kind of versatility the GLP impression X4's offer to enable me to create these moods."
Sharing the duties on this tour was another fan of GLP, JoJo Tillman, who acted as live cam director, while Bertil Mark himself took on all programming and visual operation and some of the content design.
Photo Credit: Ralph@Larmann