Thanks to its innovative and creative design, Cosmic Truss's F34 Baby Tower allows for an unobtrusive ground support system to be used, making it particularly ideal for trade shows and TV use.
In fact due to its compact form factor, it is perfectly suited for any applications where locations are difficult to access and where application with normal ground support is too big and heavy.
In addition to providing low profile visibility, the system also reduces transportation volume by up to 80%, compared to traditional systems, providing huge economical advantages for the event producer.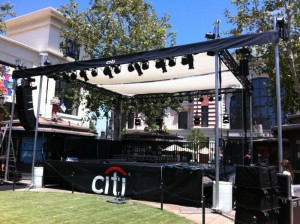 The Cosmic Truss solution has overcome all the inherent problems of a traditional ground support system, employing a smaller size leg with a larger size grid (which rides up once the leg has been fitted into the corner of the grid).
Instead of being conceived as a truss tower, Baby Tower is essentially a tube — designed to support a grid made of 12in box truss. The legs are in sections and can be set to a maximum height of 7m while retaining a strong aesthetic.
The low-profile nature of the rig has already won favor with a host of event producers and production companies specifying it for trade shows, outdoor promo concerts, marquee weddings, after parties and awards parties.
States Mark Ravenhill, president of North American distributors GLP Inc., "The less truss you have getting in the way, the better for everyone. A cool addition to the Baby Tower is that there are no massive base sections, and once rigged into position, outriggers can be removed from base sections where appropriate to reduce its footprint. It creates a lot more transparency."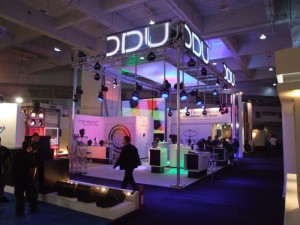 His views are endorsed by a key Cosmic Truss customer, turnkey production company RK Diversified Entertainment of Upland, CA. Their general manager Doug Sturgis confirms, "We have been running the Cosmic Truss Baby Tower successfully in our staging inventory for the past ten months.
"We had been looking for a combination of a more simplified system with great sightlines and ease of build and strike. This system fit the bill completely."
Doug Sturgis had been introduced to the product by Mark Ravenhill himself. "I could immediately see the ability of the system, and was impressed by its nice and somewhat unique design," he remembers.
"From a practical point of view it offered ease of use at a reasonable cost, and as a lightweight, self-climbing system it was also great for indoor applications rigging capacity is limited or cost savings need to be made."
Since purchasing the F34 Baby Tower, RK Diversified Entertainment has found wide use for the self-climbing system on corporate events for hanging lighting and drape, as well as for outdoor concerts for flying lighting, audio and sunscreen, while straight truss has been used for flying lighting in rooms where weight of points was limited.
Load testing was done in accordance with regulations BGV D8 and BGV C1.