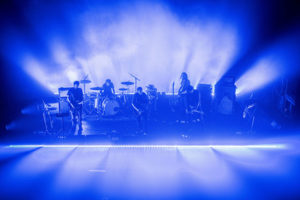 GLP's versatile floor package specified for Texan band by Tobias Rylander
Award-winning production designer Tobias Rylander has created a dynamic and versatile light show for long-standing Texas post-rock five-piece, Explosions in the Sky — entirely from 16 of GLP's innovative X4 Bar 20 battens.
Knowing these could be used to create big fields of light from an economical package, the designer sourced the fixtures from vendors, VER.
The design and scenography evolved only after a number of conversations with the band, who specialize in elaborate guitar-oriented instrumentals, which they refer to as "cathartic mini-symphonies."
Tobias explains, "I visited them rehearsing in Austin many times and presented a couple of different versions of set designs that we all really liked. But we ended up agreeing that just the fields of colors and light created by the X4 Bar 20s and Solaris LED flares would carry the show and enhance the music perfectly. It was all that was needed to push the band's instrumental music."
He says that creating big fields of color is what these award-winning battens do best. "For Explosions we use just three layers — one in front, one mid-stage at backline and one upstage — so it's simple and efficient. The floor kit is their main touring package and for bigger shows the FX on the floor will be mirrored on the trusses — with double the amount of fixtures doing exactly the same thing."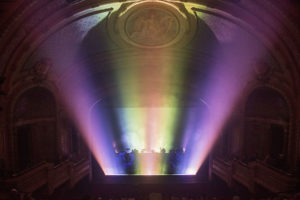 With their extreme versatility, Tobias says the X4 Bars, quickly became his 'go-to' solution when seeking a tiltable fixture with big mid-air sweeps and random strobing while still having the ability to function as a conventional cyc light.
"These lights have become a workhorse for me," he states, "and unlike a lot of fixtures they deliver a nice true white and have a good dimmer curve. They color mix very well and very smoothly with good throw distance and can fill a whole proscenium."
Programming and tour duties were entrusted to the capable hands of Corey Mattonen — another massive fan of the GLP battens — who has been directing and designing shows on the road for the past five years (including Schlomo and Brillz). He was recommended to this tour by fellow LD, James Casteneda.
Corey says that since the rig needed to be scalable it was simply a case of cutting one or two Bars off the plot to fit the room, without sacrificing any of the dynamic. "I remember being blown away by the seamless connection of fixture faces the first time I saw these Bars," he says." They offer much more versatility with the zoom range, color punch and movement than any similar fixture I have come across.
"In fact they have outperformed my expectations and hold up extremely well on the road. They perform just as they should, day in day out. Through festival conditions to club settings they always pack the punch and perform exactly as I would like them to." 
"But it's the zoom and pixel map ability that really stand out, he says. "The color output is stellar but when in a narrow zoom it is quite incredible how tight the beam can go, and it never loses its hard edge. And compared to other pixel mapped fixtures they are much easier to make perform the way you want them to."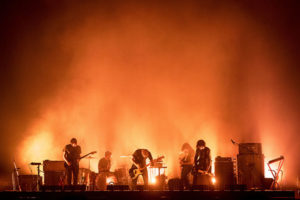 Overall, he says, they provide exceptional punch and versatility for such a compact unit. "I cannot tell you how many times I have recommended them to colleagues," he effuses.
A final testimonial to the tour: While in London recently to pick up a Knights of Illumination (KOI) Award, Tobias Rylander witnessed the lightshow on the GLP booth at the PLASA Show, which had been designed by a 2015 KOI winner, Tom Campbell. In seeing the integrated display, featuring the full suite of GLP's new products (including X4 atom and GT-1) he was delighted to find that the 5-minute presentation had in part been choreographed to an Explosions in the Sky soundtrack.
Photo credit: Atiba Jefferson