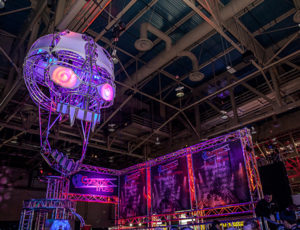 Exhibiting on the adjacent stand to their US distributors, GLP Inc., Cosmic Truss's display at last month's LDI Show in Las Vegas took on an alluringly ghoulish theme — which really galvanized visitors, who may have thought they had arrived at the Gates of Hell.
In fact the fantastic custom-created skull that hung above the booth to draw people in, was arguably the most photographed item at the show. The skull itself is a version of one that had been conceived earlier by Australian designer Aldo Fabrizio in collaboration with Cosmic's territorial distributor, Design Quintessence Pty Ltd.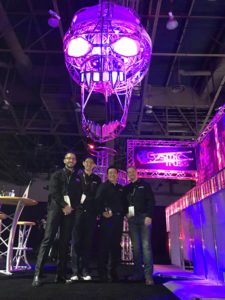 Cosmic Truss Business Manager, David Park said it best. "We wanted to highlight that truss can really be used as a design feature, not just as a structural element,"
The structure itself combines standard off-the-shelf components along with a few with custom pieces — and exemplifies the fact that with a strong concept and a creative design team truss can become a high impact, expressive statement.
The concept also appealed to the LDI judges who awarded the stand with the 'Best Product Presentation' of the exhibition.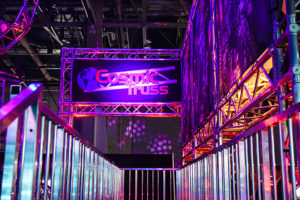 In addition to this visual highlight, Cosmic Truss was promoting its new range of staging platforms which are rugged, strong and flexible, with standard sections running alongside curved pieces, steps and a full set of handrail and balustrade accessories.
Also on display were a variety of new adaptor plates, corner sections, some new additions to the range of clamps and couplers – and a range of other market driven product solutions to everyday trussing needs.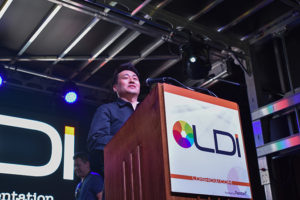 Cosmic Truss Sales Manager, Paul Saghbazarian commented, "All of the new items that we showed were really well received by customers. We supported them with the new staging range and other existing products, like our safety barrier range and they have all been shipping since the exhibition ended."
Summing up, David Park said, "The show was a huge success and we are grateful for the support that we received from our manufacturing staff in getting a complex structure made in just a couple of weeks. We can't wait for the next challenge!"