As its year as the Culture Capital of Europe came to a close, the Ruhr region in Germany celebrated on December 18 with a massive multi-media show broadcast live on Germany's national WDR TV from three separate locations.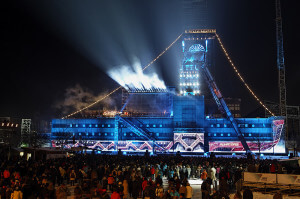 The main event was staged at the disused Nordsternplatz coal mine in Gelsenkirchen which, using the latest video technology, was transformed into a fantastic paddle steamer, the MS Ruhrtopia, on which a cast of artists and musicians took a fantastic journey through 2010.
With a series of video screens formed of over 500 m2 of G-LEC Phantom Frames and supplied by Videotechnics Bär, the event made a big impression on the 30,000 strong audience. "The build-up happened under the worst meteorological conditions" says Philip Bär, owner of Videotechnics Bär. "Heavy snowfalls and winds, kindly brought to us by Cyclone Petra, were a big problem.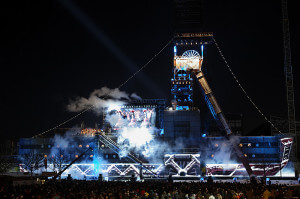 The main 16m x 8m screen was at the top of the building, set at a height of 25m, so it needed to be both lightweight and transparent to the strong winds. We used 128 G-LEC Phantom 30 frames, which solved all the logistical problems and also gave great video presentation, with good colour and strong images." Decorating the base of the building and providing the 'paddles' for the paddle steamer were 413 Phantom 60 frames, set up as seven separate screens and requiring several media servers.
The unique lighting design for MS Ruhrtopia was by Andreas Fuchs, with additional light and sound provided by Satis & Fy.