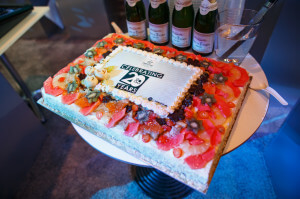 GLP (German Light Products) celebrated a landmark birthday at this year's Prolight+Sound Show in Frankfurt, when Udo Künzler, who founded the company in 1994, invited the massed ranks of international press and distributors to raise a glass and toast the company's first 20 years.
As he stood on the riser, he was surrounded by all the milestone products that have marked this evolutionary journey over two decades, commencing with the Patend light and leading up to the birth of the ground-breaking impression series in 2007. They even displayed the ill-fated 'Blue Tools' — a product that never got completed, and was described by Künzler as 'the world's most expensive coffee machine'. Hilariously, it was profiled to resemble precisely that — with a plastic coffee cup underneath lending authenticity.
Two high profile industry professionals who have contributed to sales of the impression series on both sides of the Atlantic are Kasper Gissel and Mark Ravenhill, and both men were present (the latter providing the stirring introduction to proceedings).
He also introduced a number of world-class LD's eager to congratulate the company (and spirited in on the big screen). Testimonials were received from Steve Cohen, Jonathan Talley, Herrick Goldman and Hansjorg Schmidt, Bjorn Hermann, Manuel da Costa and Thomas Gerdon.
Mark also provided a curtain raiser to the latest generation of impressions which will make its debut later in the year — the new X4L, which appeared in prototype form on the stand.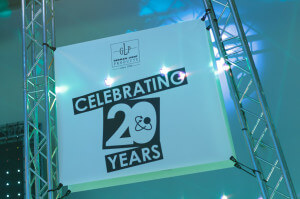 As guests feasted on cake and champagne (or GLP's specially bottled German beers) the party eventually moved next door to GLP dealer, B&K Braun, where the revelry continued.
Stated Udo Künzler, "This was a very special occasion for us and it was great to be able to welcome so many friends and supporters who have helped us along the way — plus, of course, the world's press."
Picture credits: Arpad Ikuma Csizmazia