After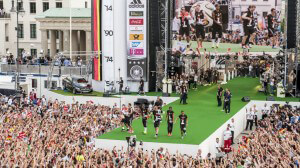 winning the thrilling FIFA World Cup Final in Rio de Janeiro and the subsequent flight home in the 'Siegerflieger' (the victors' plane), nearly one million fans of the German national soccer team gave them a memorable reception at the 'Fan Mile' in Berlin, along with the support of GLP impression X4 units.   
Leading up to this, up to 500,000 soccer fans had celebrated their team's success on the Straße on the night of 13th July in front of the Brandenburg Gate and along the Fan Mile. For the light show on the main stage, situated in front of the famous landmark, Berlin based TLT Event AG was responsible for building the 65 square meter LED wall along with a number of GLP impression X4 fixtures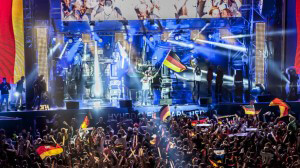 Lighting designer Lars Murasch was more than satisfied with the performance of the compact LED moving head: "The X4 is a very versatile wash light," he said. "It can be combined excellently with beams due to its tight zoom and the low amount of stray light. It proved itself in front of the TV camera for both its image and among other things for its baseless design."
Both the German team as well as the German designed GLP X4, performed exceptionally. After a month-long tournament in Brazil and a total of 13 days of use on the Fan Mile the most beautiful homecoming the German football fans could imagine was the presentation of the trophy in front of the fans by team captain Philipp Lahm and his team-mates.
TLT AG's director, Jan Schimming, was entirely satisfied: "The operating days at the Fan Mile can sometimes be long. For the team's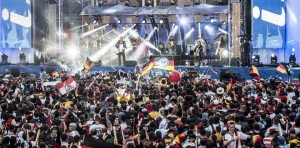 homecoming the stage programme, for example, began at 8 o'clock in the morning — and yet we experienced no problems with the impression X4 during the entire production."
In conclusion, Schimming said that these fixtures from GLP represented a good long-term investment. "We have already used 48 impression X4 for the New Year's Eve event at the Brandenburg Gate. Those LED moving heads have therefore now proven themselves to be reliable in both cold and hot conditions — and they didn't let us down on either occasion.Operational reliability and flexibility are the key points for all involved parties, for us, our clients KIT Group & Wohlthat Entertainment GmbH and last but not least the audience."
Photo Credit: David Marschalsky