When New Zealand band The Naked and Famous were set to play their first major UK headline showcase at Shepherds Bush Empire, Stage Techniques' Liam Griffiths— their LD for the past three years — wanted to lay on a treat.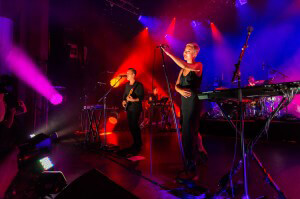 So he commandeered 12 of GLP's powerful new impression X4 XL LED washlights — the latest and largest of the popular X4 family — from equipment vendor TSL Lighting, knowing he would be giving them their exclusive UK debut. "I had been hoping to get my hands on this fixture for a while," he admits.
Liam was already familiar with the fixture's forbears, the popular X4 and smaller X4 S, having used them as floor packages on the band's North American arena gigs — both in their own right and in support of US rock band, Imagine Dragons. But at Shepherds Bush, six of the massive X4 XL heads, each housing 55 x 15W RGBW LEDs, and vertically mounted on pipes set downstage left and right, were set to output huge swathes of light.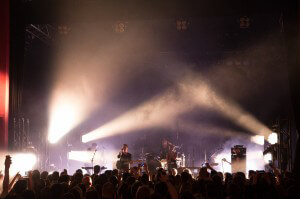 It was an impressive tour de force that had an immediate impact on the indie band itself. Keyboard player Aaron Short summed up the anticipation of the new GLP lights by quipping, "Liam had been going on about this Shepherds Bush show for so long — and now I know why. We'd been using the impression X4 on our last tour, which is great, but these X4 XL are five times as big. They're epic and make it feel like we're playing in an arena!
"For me, the bigger the production I'm surrounded in, the better … so having the new GLP X4 XL on stage definitely helps me take my performance to another level."
Taking up the story again, Liam says, "With 55 LEDs, it gives a real punch — the beams are amazing!" He also highlights the individually controllable LEDs which allowing a range of different patterns to be created and displayed on the front lenses. "It's all about lighting the band, really, using the power of the beams via the pattern chases; a lot of fixtures can't do that."
"GLP's color tones and dimmer curves have always been better than their competitors while the [7°-50°] zoom on the X4 XL is amazing; it makes such a difference."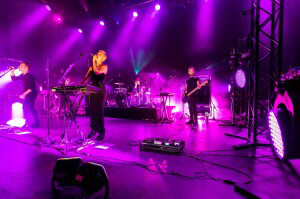 Aside from being impressed with the color saturates, he has also noticed that the fixture is hardly DMX hungry: "27 channels in the hi-res mode which is pretty reasonable. In fact power wise we are on 63 amps but we are running nowhere near capacity.
"I also like the lens on the front so you don't see the tacky LEDs. The strobing is also a lot nicer and it's pretty fast for a fixture of that size and weight, as I do move the lights into the crowd." The fixtures are also easy to program on his Chamsys desk.
The X4 XL fixtures were clearly the highlight of a production that also featured Solaris flares and short arc discharge lamps, creating as big a wow factor for the full house as the band themselves. "To add a lot more effect we are using custom built mirrors to create prism effects which we've had since the Imagine Dragons tour," confirms the LD.
He has been morphing the same show file as he used with the X4 fixtures, adding subtle tweaks. "I have always worked on the idea of doing a cue stack for a track and having specials on a different fader, so it's all pretty much time coded really. I have a bespoke page for each song, and there's a lot of triggering of Macros as well; I find it easier to edit a Macro especially at smaller venues when we're cloning/morphing different fixtures."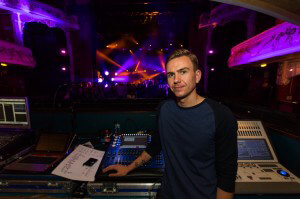 Liam Griffiths, who comes from a family of lighting and video technicians, has honed his art at venues just such as this; his CV features stints with Rudimental, Maximo Park and The Enemy among others, while a heavy booking roster for next year includes a tour with Brooke Fraser.
Martin Locket from TSL Lighting also added his pride at being involved in the UK debut of GLP's new blockbuster. "We are delighted to continue our support for Liam and this show has been a great chance for us to collaborate with Mark Ravenhill and his team."
"An energetic live show gave us a first class opportunity to evaluate these fixtures fully and to identify further productions and designers that they would be ideally suited to, across several market sectors."
Photo Credit: Jessica Gilbert