Carl Wake takes new role, Dusty Hudgins joins as Regional Sales Manager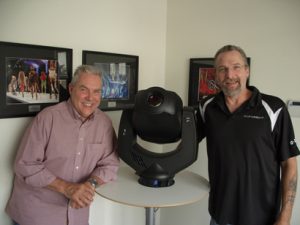 California based GLP German Light Products Inc. has announced a couple of significant changes to its staff line up.Firstly, Carl Wake has taken on the new role of Technical Services Director within the company, with responsibility for the entire technical and support side of the company.
"Carl is the perfect person to have in this position. He is highly knowledgeable and passionate about making sure things just work, and he's as keen to make sure that as many people as possible share that knowledge", commented GLP's President Mark Ravenhill. Carl continued "For myself, this is a natural progression within the GLP organization and I am looking forward to strengthening our technical support for our product lines".
Filling the vacant position of Regional Sales Manager for the Central USA is new addition Dusty Hudgins. Dusty is a familiar face to many in the industry having worked as a lighting designer and then with stints at High End Systems, and more recently at Wybron. Dusty will be looking after the full range of GLP, G-LEC and Scenex Lighting products, along with the full range of Global Truss products all of which the company distributes exclusively throughout the US and Canada.
Dusty commented "I am pleased and excited to be working with such a progressive company and a talented team of people. The GLP product lines are rapidly expanding and I'm thrilled to be a part of that expansion".  Mark Ravenhill continued "Adding the experience and knowledge that Dusty has is a great asset to GLP. We are totally focused on our customers and the addition of Dusty to our team continues that focus unabated." 
Carl Wake is now based out of the company's US headquarters in Sun Valley, California and can be reached at +1 818 767 8899
Dusty Hudgins is Austin, Texas based and can be reached at +1 512 484 9232