GLP's brand of non automated fixtures, Scenex Lighting, has announced that its popular LED Studio Par range is now available in a white finish as standard, alongside the black and gun-metal grey already in the range.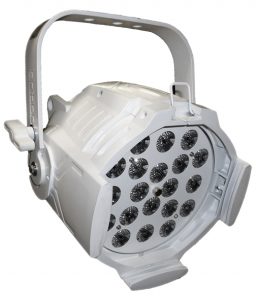 Added from user demand, and seeking to bridge the gap where requests for white fixtures often involve huge lead times and large up-charges, this new addition to the Studio Par range is perfect for blending into installations with lighter background colors. Even the power cable that's supplied with the fixture is white to ensure that it blends in seamlessly.
The Studio Par is a powerful RGB LED fixture with 18 individual tri-color sources. The Studio Par features a bright, homogenized beam, with interchangeable fixed beam angles of 10, 25 and 40 degrees. It's housing features Neutrik Powercon input and output connectors for easy power loop through, with a smart design that protects all the rear connectors should the unit be floor mounted, and an auto sensing power supply range from 90-240V. With both 3 pin and 5 pin XLR connectors, the Studio Par features a rear display for addressing and fixture setup, and includes the ability to master / slave units for more simple or temporary installation requirements.
Competitively priced, the Studio Par delivers a high quality light output, with the benefits of LED technology, but without forcing customers to pay large up front costs.