Major new product launches combine with two world-class lightshows
GLP has much to celebrate at this year's Frankfurt Prolight + Sound, where their profile will reach a new zenith.
Aside from unveiling two revolutionary new products, the company will be lighting up its largest Frankfurt booth ever (#4.0, G20), incorporating a new version of the inspired lightshow designed by Los Angeles-based designer, Matt Shimamoto (Volt Lites) which has so impressed visitors to America's premier LDI Show in recent years. At the same time GLP will be launching the much-anticipated JDC1, a true hybrid LED strobe, and multi-purpose impression S350.
Meanwhile, away from the booth at the adjacent Festhalle, over 770 GLP fixtures are being designed into the lighting rig by one of Germany's most distinguished production designers, Jerry Appelt, for this year's prestigious LEA (Live Entertainment) Awards. This will include both the GT-1 and JDC1 hybrids, as well as the full family of X4 products.
JDC1
The powerful JDC1 has been designed to deliver unprecedented versatility. The fixture contains a traditional single tube element with an incredibly clear, bright white output; this combines with a surrounding full face of RGB LED power, utilizing 1,440 high quality LED's. The possibilities are endless as these two elements have independent control and can be used as separate pieces, or combined for stunning effects.
In addition to working as a powerful strobe light, both the tube and the full-face sections can be run continuously for high output blinder and wash light effects, which never reduce output or have thermal cut-outs.
impression S350
Also, being shown behind closed doors will be prototypes of the new multipurpose GLP impression S350 — a mid-range, near silent running fixture, offering an unparalleled feature set for its size. Employing a highly efficient optical system, the fixture uses a powerful white LED engine at its core, producing bright clarity in the projected beam. Smooth dimming and even field distribution along with clear image projection are all standard, while output is brighter than typical 700W discharge lamp sources.
The impression S350 has all the low maintenance benefits of LED technology — from a proven manufacturer.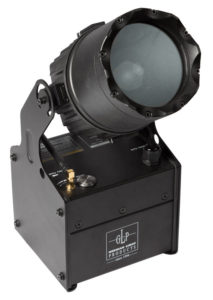 X4 atom Free Connect
Also on show will be new Free Connect unit for the X4 atom, giving users the freedom to use individual Atom heads in any location. Completely free of wires, the Free Connect contains a rechargeable battery and inbuilt Lumen Radio CRMX wireless DMX control, all packed into a smart housing that features an IP65 rating, matching the X4 Atom head. It features an 8-hour running time while an on-board menu allows users to customize the operation of each Atom and the ability to store a DMX snapshot for playback without a controller.
Finally, visitors still seeking an excuse to party — and a taste of GLP's legendary German beer — can toast the first glorious decade of the impression series, which is celebrating its milestone anniversary.