Once a year, the German and European Rave community undertakes a pilgrimage to Dortmund in the Ruhr area of Germany – where, since 1997, Mayday is celebrated. Around 25,000 ravers attended this year's event to make the night into day and to celebrate trance, electro and hard beats.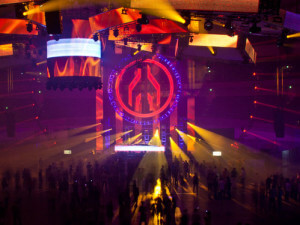 Anyone who considers Mayday to be just a big party, is entirely on the wrong track — the audience is highly critical, placing huge demands on technology. In particular, the lighting design must be unique and impressive and the sound experience equally massive.
This year, Wiesbaden-based company Schokopro took over the technology part in "the arena", the largest of the three venues of each Mayday. For one night, the dome of Westfalenhalle 1 was converted, under the direction of lighting and set designer Thomas Gerdon of Gerdon MEDIADESIGN, into the "mother of all raves."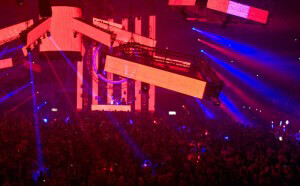 Thomas Gerdon and his production manager Bernd Goergen know the requirements of organizers I-Motion and the wishes of the crowd, as the team has already been responsible for Nature One, Germany's biggest outdoor Rave. On the main floor Gerdon and his staff knew exactly what was needed: "Moving trusses, stunning looks, just something big," he says, describing what he and his crew have put together over four assembly days.
In Gerdon's stage set, the designer relied on new technology from GLP, using their latest generation Wash One and Spot One automated fixtures, both of which have powerful LED engines and convinced the designer with their fantastic rich colors.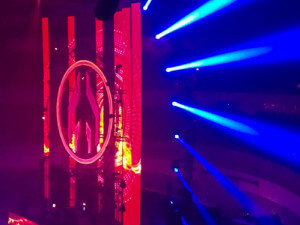 "As both fixtures manage without the classic base, the design possibilities are of course enormous; there is nothing clumsy, it just looks good," he says. In addition, both the Spot One and Wash One are incredibly fast and agile, which is vital in this genre. "In a nutshell, the two lamps are compact, powerful and extremely flexible — and thus are made for such a job."
A further advantage is that thanks to the LED engine in the Spot One and Wash One, the amount of heat generated was minimized over the 15 hours of continuous operation, whereas some fixtures in the past had suffered with thermal problems.
Besides using the two new GLP fixtures, Thomas Gerdon also used a large number of GLP impression 90's set up over the main stage, "which rounded off the stage and completed the whole picture", the LD concluded.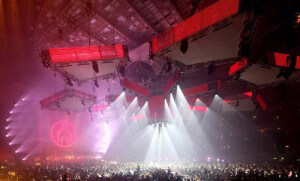 In addition to the main arena GLP occupied, almost exclusively, the smallest venue at Mayday. In the 'Casino', where there is traditionally more emphasis on sound and decorative elements than on solid lighting, eight GLP impression 90's, from the portfolio of Gahrens & Battermann from Refrath, were enough to put the barrel-shaped decorative elements from Giant Optix of Hamburg into the right light.