For nearly 20 years, Circus Flic Flac has been synonymous with artistic, highly unusual entertainment and thrilling live shows. However, last year, Flic Flac ceased touring in order to concentrate on single shows and special events — such as their spectacular Christmas circus in Nuremberg.
Between the beginning of last December and end of January, the striking circus Big Top, colored in yellow and black was raised for more than 60 shows, with over 1,400 people attending each day.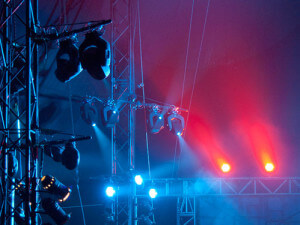 Jens Berthold, CEO of Germany's J&S Music, and Christian Griebel, Technical Director for the show, set the specifications. "We needed highly reliable fixtures. Due to temperatures dropping far below zero at night and going up to around 25°C during the shows, condensation was only one of the challenges we needed to face. Furthermore, dust, heavy use of fog machines and constantly changing temperatures and humidity created a highly demanding environment — not only for the fixtures, but for all the equipment used inside and around the tent."
But in the brand new GLP Spot One, Berthold and Griebel had one significant advantage. "The whole LED and effect engine inside the Spot One is completely sealed and thus resistant to such influences," they noted. "In fact, we had not one single failure due to moisture, dirt or low temperature during the two months."
A total of 16 Spot Ones were used by LD Dennis Dellweg, alongside additional fixtures including 16 GLP impression 90, 12 GLP YPOC 700 CMY and 18 Scenex Lighting Fusion LED battens.
Dellweg was impressed not only with the reliability, but the creativity offered by these fixtures. "When it comes to GLP's Spot One, there are really no restrictions. Brilliant colors, sharp and focused projections and the high output beam really stand out," he commented.
"For a show like Flic Flac, there are no fixed plans or schedules, it´s much more a steadily growing, organic piece of art. There is no set choreography — we start with an idea and begin developing this during rehearsals — that´s how we realize the lighting design. Sometimes, the artists come up with ideas or certain pictures they want us to integrate in our lighting design. Sometimes, it´s much more laissez-faire and the artists let us do whatever we think best to complement their show. That is a very open minded process and highly creative way of generating the appropriate lighting design."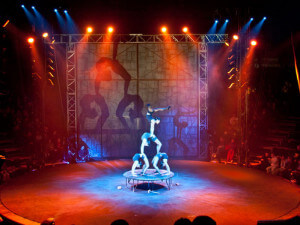 Within only one week for rehearsals and programming, Christian Griebel and the staff at Flic Flac really crafted a living, organic piece of art – "this is because we do not stop at the première, but constantly change scenes and setups to make it perfect. It´s pretty amazing to work that way when you have such highly creative tools as the GLP Spot One at your side."