John Featherstone puts GLP's next generation LED fixture through its paces.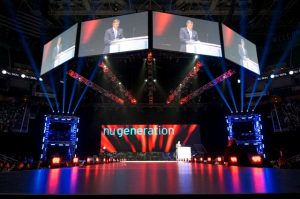 Premier anti-aging and skin care giants, Nu Skin, recently held their global sales meeting when 15,000 sales reps from around the world assembled in Salt Lake City to learn, celebrate and connect over a three day period. The expansive Energy Solutions Arena was dressed for the occasion, and Michael Marto, CEO of event producers Executive Visions Inc., collaborated once again with John Featherstone of Lightswitch for innovative lighting and media design.
Featherstone's brief from Marto and the EVI team was to help bring their vision to life by creating an exciting 'arena scale' design that would be interesting and engaging from the front of the room to the back. A combination of a dynamic lighting system and an LED stage deck made for an inventive palette of creative tools, which included six of GLP's groundbreaking new impression Spot One LED heads.
With three days of meetings and awards — interspersed with live talent — the feature set of the Spot One was extended to the limit.
Since Lightswitch's work is geared to five major fields – Architecture, Events, Environments, Entertainment and Museums — having a versatile lighting inventory is of paramount importance.
"I had seen the Spot one at a pre-production demo, and decided to try them at this event. I must say I was very impressed," John said.
The fixture extends the designer's potential considerably by harnessing the output of high powered LED sources, which is then forced through the optical system of a conventional spot chassis to create both an even beam for full RGB colour mixing and a focusable area for gobo projections.
Epic Production Technologies, who supplied the remainder of the lighting, were also evaluating the fixtures, and their account rep Donny LoDico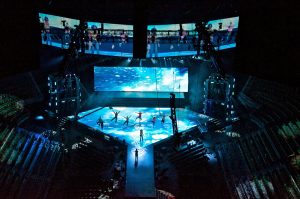 shared the same reaction as the lighting designer to the impact the GLP fixtures provided.
What LoDico witnessed was the impression Spot Ones functioning upstage of a central opening LED wall. "We wanted a high output device, but the lights were very close to clients as they made their entrances – so the Spot One fitted the bill perfectly, since there is zero heat dissipation" continued Featherstone.
The fact that they can be placed in close proximity to performers — and be used to project onto different surfaces, which might present safety hazards if addressed by conventional discharge lights — are further reasons for choosing this LED source.
"To me, LED fixtures are often at their best when they seamlessly replace conventional sources," concluded Featherstone. "On first look, the most remarkable thing about Spot One is how closely it matches traditional 700W discharge fixtures in performance. But then the colour kicks in, and the additive nature of LED colour completely blows away the competition. This, combined with low power and no heat, makes this fixture a compelling choice. In  fact I think Spot One is 'state of the art' for the next generation of LED lighting."