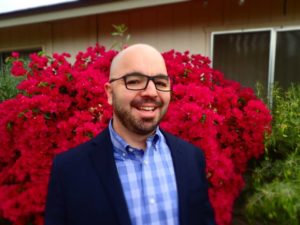 German Light Products US Inc. welcomes industry veteran William Irwin to the GLP family, serving in the role of Brand Manager for Scenex Lighting.
William joins Scenex Lighting in a newly created position designed to promote and strengthen the company's LED lighting solutions. William's track record of success includes project management, engineering and integration, and business development, most recently with Clearwing Productions. As an industry veteran, William's extensive experience and insight will help further elevate the Scenex Lighting brand.
"I am thrilled to work for GLP's Scenex Lighting and look forward to leveraging my experience to build the new division." William said.
 "We are really excited to have William lead the Scenex Lighting team. His passion, enthusiasm, and drive are a great match and we look forward to much success in his role as Brand Manager.
Scenex Lighting is committed to supporting their clients with special LED projects and installations, often as a customized solution. With William on board, we are preparing to expand the Scenex Lighting brand in a new direction. I could not be more excited about having someone with William's talents directing this endeavor," said Mark Ravenhill President of GLP America.
Having just started with Scenex and GLP, William expressed his appreciation for the company, both in and out of the industry. This included their successful solutions and products already on the market, and noting the company culture.
According to William, "GLP's customer centric philosophy sets the bar high for outstanding client support and innovation throughout the industry. Currently Scenex Lighting offers custom LED and Pixel tape solutions. I see limitless potential and opportunity to build a brand using quality solutions while utilizing partnerships that stretch beyond just a single custom project."
William can be reached via phone: +1 385 383 4870
Or by email: w.irwin@germanlightproducts.com.
For more information, contact GLP US: 818-767-8899, info@germanlightproducts.com , www.germanlightproducts.com.