Pulse Lighting installs new live venue in the shadow of The White House
Just a block away from The White House in Washington DC, The Hamilton has kick started a creative renaissance and is fast becoming the American capital's hot destination for sophisticated live music and dining — presenting local, national and international bands.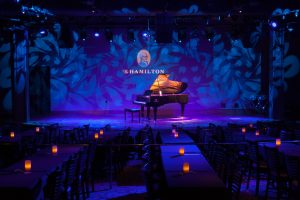 Contracted to provide the production lighting design, Paul Hoffman of Pulse Lighting LLC deployed 18 of GLP's versatile, lightweight and highly affordable Volkslicht Zooms to help build the atmosphere.
Hoffman first became involved in the project around two years ago to consult on the lighting and other aspects of the technology for owners, Clyde's Restaurant Group.
Having worked with the operators on previous events (and impressed them with their production work for bands such as Widespread Panic and Furthur), the LD knew what was expected.
With a 500-seat upscale restaurant at street level and 400-seat live music venue below, with its own food and beverage menu, attention to detail was required.
"We worked with the architects and owners from the very early phases to get the lighting design exactly right," he said. "We had the general contractor install pipes for us to hang from and had the building electricians run conduits and power."
More than anything, Paul Hoffman wanted the design to look elegant. "Design factors that influenced our decision included high quality equipment,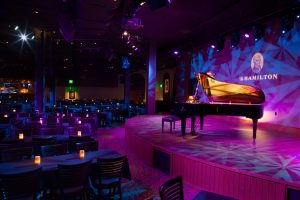 ease of maintenance, ease of operation, flexibility for many different types of application and also 'green' credentials. We also wanted to use LED technology wherever we thought it was appropriate."
These were all characteristics supported by GLP's Volkslicht range. The lighting specialist had become familiar with these industry-standard LED heads during his time on the road — and has been using around 24 GLP impressions on his touring rig with Widespread Panic.
"When it came to the installation we looked at several products and changed our specifications along the way," he continued. "When we decided to go 100% 'moving' for our wash lights, it came down to a choice of two fixtures; ultimately the zoom capability of the Volkslicht and the ease of the relationship with [GLP West Coast regional sales manager] Ed Cheeseman tipped the balance."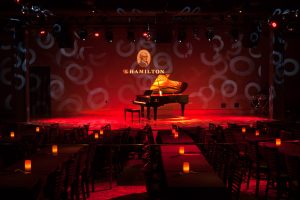 Volkslicht (which translates as 'People's light') uses 60 Rebel LED's (21 green, 21 blue and 18 red) to create a full color palette from strong saturates to subtle pastel colors for shorter throw applications. Small, easy to rig, with a weight of just 17 lbs and power consumption of 180 watts, the head features full range dimming, and a strobe effect, while the Zoom function provides motorized zoom optics from 10° to 26° light distribution.
The 18 Volkslicht Zooms are distributed over four pipes; five are used upstage for backlight, seven are placed on the downstage edge for stage washes and the remainder sit out on an audience pipe, to provide a broader stage wash.
The Volkslichts sit comfortably within a rig that includes industry standard discharge spots and other LED effects.
Said Tom Meyer, President of Clyde's Restaurant Group, "The lighting is a crucial part of the entire concert experience at the Hamilton — it sets the mood from the moment people enter the venue. The lights add complexity and excitement during the performance, truly enhancing the experience for both the performer and the audience."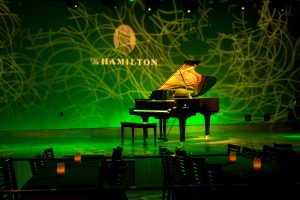 As for Paul Hoffman, he praised the support offered by Ed Cheeseman "who made the sales process easy." He also noted the forward thinking attitude of Clyde's Restaurant Group "in creating a very high-brow venue, intended to bring great music to the Washington elite."
The designer could scarcely be happier with this latest departure. "Most of my work in the past has been touring related. This has been our biggest permanent install to date — and we would like to do much more of this type of project."