LD Jerry Appelt finds the new GLP washlights make an impressive showlight on TV talent show.
After the major success of X-Factor 2010, the German version of the popular talent show has just completed its second season, which ran between 30th August and 6th December.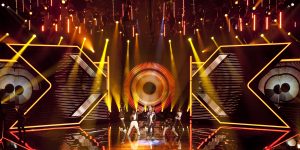 Among those lining up for casting, the new GLP impression Wash One appeared on all eight live televised shows for the first time, with top LD Jerry Appelt and his team responsible for the show's lighting design.
This coupled with the extensive use of GLP impression fixtures on the debuting series of X-Factor in the United States with LD's Tom Kenny (Audition and Bootcamp shows) and Al Gurdon (Live shows) both making use of the fixture.
Back in Germany, Jerry Appelt had already used impression series moving heads for several projects in the past — more than 300 impression 90 and impression XL fixtures featured at the European Song Contest 2011 in Düsseldorf — and again Jerry turned to the energy-saving features of the GLP devices. 40 GLP impression Wash Ones were integrated in the stage design this time around.
The impression Wash One features a 400 watt RBG LED light engine, but in addition to the many benefits of this technology, the washlight offers many more special features such as the 3° Narrow Beam Mode, an indeaxable beam shaper and beam edge control which allow room for new creative ideas.
"The Wash One is a real all-rounder," observes Jerry Appelt. "You can use it to create crunchy beam colors, but also clearly-selected areas on the stage can be illuminated."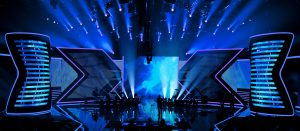 Magic Light & Sound purchased the 40 impression Wash One fixtures especially for the X-Factor show. Marco Pütz, business manager of Magic Light & Sound, is also committing to further capital investment in these heads. "In addition to the economic benefits of LED technology, we can see that the Wash One is starting to show up in more and more specifications," he said.
The grand final X-Factor show was divided into two parts and broadcast on VOX Television. At the end of the voting, promising newcomer David Pfeffer emerged the winner of the second season.