Following the successful launch of the impression Spot One during 2011,GLP has now introduced the impression Wash One, which offers a Fresnel based optical system with a full feature set of beam control options.
Using the same 400W RGB LED light engine as the impression Spot One, the Wash One is able to deliver incredibly delicate color changes or instantaneous color bumps.
Careful calibration ensures that as wide a color spectrum as possible can be achieved — from soft pastels to deep saturated shades — and everything in between.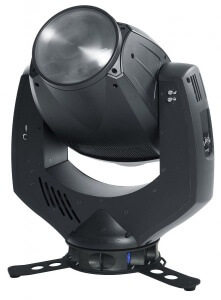 The impression Wash One offers a highly useful 6°-60° zoom range — but in addition, it contains a high powered 3° narrow beam mode to offer further flexibility to designers.
The fixture also boasts an extremely useful and innovative beam shaping function that enables the user to illuminate only the parts of a stage that need to be lit; the size and index can be controlled almost like a framing system.
On top of that, the variable soft-edge control allows the LD to control the way in which the edge of the beam is projected. The designer can choose between a beam that either resembles a PC lens or a Fresnel — and adjust the hardness of the edge seamlessly.
Finally, in common with the impression range, the Wash One's baseless yoke gives it a weight of just 48.5 lbs (22kg) which is perfect both for transportation and easy rigging (in any orientation).
The Wash therefore fulfils GLP's continuing mission for game-changing technology — first introduced into the Spot One.
The ability to harness the output of sufficient LED sources, and then run this through the optical system of a spot and wash fixture to create an even beam for color mixing — at the same time achieving a focusable area for gobo projections — had long been the Holy Grail for lighting designers.
"They have been asking for this ever since LED became a viable source for entertainment lighting," reveals GLP director, Kasper Gissel. "The design of the impression Spot One and impression Wash One accomplishes that by forcing raw power through an advanced optical system. It's a designer's wish come true."
To see the fixture in action, contact GLP US Inc. on +1 818 767 8899