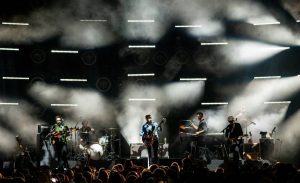 Lighting designer Dave Lee has been working with Niall Horan since the very first One Direction show at Watford Colosseum to the band's final performance in Sheffield, and following last year's Promo tour, is now constantly on tour with original band member, Niall Horan as a solo artist. "In five years I have never really stopped working with him," he says.
On the Irish singer's current Flicker World Tour, Lee has been touring with 38 of GLP's award-winning X4 Bar 20s, supplied by rental partner LCR. He found these perfect to help extend a stage set originally conceived last year, depicting an acoustic studio look, with lots of sound proof acoustic foam set pieces, tungsten lighting and big rugs as a floor covering.
He switched his original spec to GLP's versatile battens after seeing them on a car launch for the Jaguar F-PACE car (on which he was running lasers). "There were two lines of around 100 Bars each and I thought 'hell they move fast … What are they?' I was blown away!"
He says that Mike Oates at LCR — the designer's regular supply source — was able to meet the full lighting spec with no substitutions for the UK and European legs.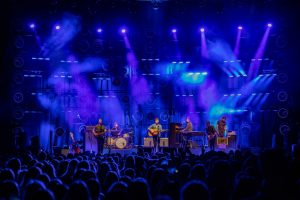 The GLP inventory is used in two blocks, there are 10 fixtures on the floor in a straight line behind the band "to give that lovely thin line that gets broken up by the band." The remaining 28 battens are set as a 'wall of lights', arranged in four rows of seven. "I curved my back truss at the point where they hang from so I can get a focus onto stage; the band plays within 30ft on a 60ft stage, so the curving helps me get the beams right into the band."
Dave Lee says this fulfils his objective of achieving something more than just plain beams. "The brief was for a wall of lights and I thought the Bars could create something interesting … And they did just that!"
Running the fixtures in 88ch single pixel mode has added further creativity, showing off their supreme versatility. "I have them pixel mapped from the [Roadhog Full Boar 4]. He admits, "I get most of my effect from the Hog's effects engine messing with their Buddying & Group Select. But to get some more randomized effects the Pixel Mapper is the only way."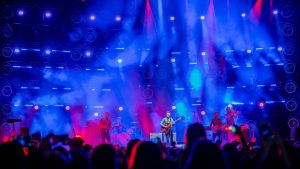 In summary he says, the X4 Bar 20s have been a joy to work with. "They are ace to program — with that good old GLP simplicity — and have worked flawlessly. In eight weeks not one unit has switched out — which is a relief as the 28 units rigged on the frames are a pain to get access to."
As the tour goes global Dave Lee stresses the importance of fixture continuity and will be sure to pick up more Bars in each territory. "As programming time between different gear sets will be non-existent, I need to be able to walk in, patch and go."