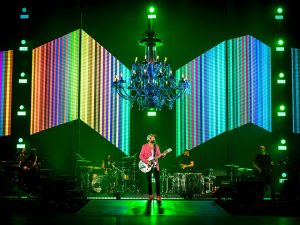 For the recent Jovanotti tour, Lorenzo Live 2018, which has been playing sport arenas in the main Italian cities, prominent British lighting designer, Paul Normandale, requisitioned 44 GLP Impression X4 Bar 20 from rental company Agorà, to light both A and B stages during the show.
These formed the anchors of what he describes as "an immersive design of the whole room, with moving stages, screens and set."
The designer set 14 X4 Bars in a line on the back of the main stage, behind the musicians,  another 14 on the front of the main stage, eight on Stage B (two per side) and the remainder in strategic positions on the main stage.
During the show the X4 Bars had a key role to play, especially when Lorenzo played on Stage B, which elevates 5 meters from the ground, in a DJ set.
Commenting on his choice of fixture, Paul Normandale commended the X4 Bar 20s as being "clear low profile units on a stage populated by a lot of players. They provided two clean lines behind the band and behind the artist."
Daniele Francescone, Agorà crew coordinator, added: "The X4 Bar is a very versatile product, made with high quality components and attention to detail. I have noted the durability of the components and the coverage provided by the light. The colors are wonderful. The LEDs and the lens have been chosen with great attention. I give this 9 out of 10!"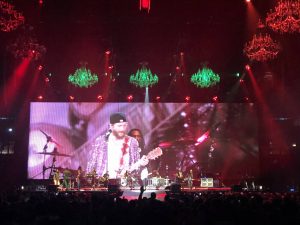 Tour lighting programmer and show director, Hunter Frith, was equally enthusiastic about the X4 Bars. "They are fantastic," he exclaimed. "They are a very flexible and versatile product. The zoom is incredible, with a very wide range, so that it can be used from very narrow to very wide, while the colors are intense and brilliant.
"For this show they asked for a very clean and free stage—and the X4 Bars have been perfect for the purpose!"
But the final word comes from Paul Normandale, who has long been a devotee of the X4 Bar 20. His own company, Lite Alternative now owns more than 60 and he also currently has them out on tour with Arctic Monkeys, Shakira and Die Toten Hosen.
"I really like their low profile appearance and the zoom," he said in conclusion.  "I now consider them on all projects."