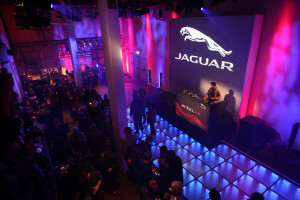 Experienced German lighting designer, Henning Schletter (of Imaginary Lights) has become one of the first creatives in the world to adopt GLP's new impression X4 Bar 20 LED batten lights – deploying them at a major product launch for Jaguar, in front of a star-studded audience that included British actor, and Hollywood star, Idris Elba.
In addition to starring as Luther and Nelson Mandela (in Mandela – Long Walk to Freedom) Elba is also a rapper and DJ. And tasked with launching the new Jaguar XE by driving the new sports sedan personally from London to Berlin, Elba later co-hosted a party behind the decks at the Umspannwerk Alexanderplatz, alongside Noah Becker.
It was here that Schletter set up his amazing lightshow, working for production company, die veranstaltungsmacher, in cooperation with Norbert Zitzmann Communications, the brand communication specialists.
The event was attended by a selective 200 VIP guests including German film stars Jürgen Vogel, Anja Kling and Hannah Herzsprung who gathered inside this former 1960s industrial power station, which has been converted into a multi-space, multi-purpose venue in Berlin's famous square.
The relationship between Schletter and GLP dates back five years when the LD used the original impression 90 and 240 XL on Apassionata, the famous horse show, which visited some of Europe's best known arenas.
Last year, he also partnered Björn Hermann for the momentous 25-years Fall of the Wall celebration at Brandenburg Gate — where the new X4 series moving lights were in use, and afterwards for a Cadillac reveal show in a Berlin parking lot.
He remembers that while those fixtures had to be 'glued' direct to the concrete ceiling, for this latest show at Umspannwerk Alexanderplatz the X4 Bar 20 strips were mounted on floor-standing upright pipes. "This was essential for the drive in of the Jaguar and the entry by the celebrity guest," he states.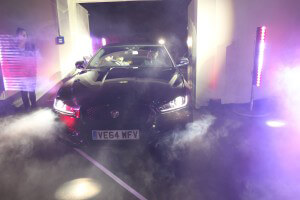 The GLP impression X4 Bar 20 uses high output RGBW LED's, packed tightly to give a full batten of light along the 40 inch long X4 Bar 20. High quality optics ensure a smooth, homogenized output across the batten through a broad pallet of pastel and saturated colors, complemented by exceptional dimming and full pixel mapping capabilities via DMX.
Operating from a Hog 4 Roadhog desk, Henning was full of praise for the fixture's ingenious tilt feature, stating, "This, in combination with the shape of the strip lights makes this fixture entirely unique.
"In fact the X4 Bar 20 is a completely original design," he continues. "Prior to this you could either have a strip light producing static, blinding FX or the usual pan and tilt of a conventional moving head. A group of strips, which suddenly start to move, creates a surprise for everyone."
In addition to that, he says, the zoom is essential. "When used with haze, it does not deliver a beam like conventional moving lights, but a complete 'wall of light', splitting the atmosphere."
Henning took full effect of the RGBW color library to produce some stunning combinations in single pixel mode. "I know the colors well from having used the X4 moving heads, and it really is a great color palette, especially when it comes to the pastels," he observes. "All the X4 range fixtures do a great job in this respect."
There's little doubt that Henning Schletter's test drive of GLP's new batten light was every bit as comfortable and enjoyable as that enjoyed in the seat of the Jaguar XE by Idris Elba — who is now tipped to become the next James Bond.