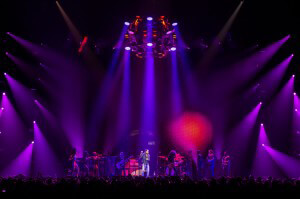 The well-proven design team of Steven Cohen and his associate Bryan Barancik, have again pooled their creative energies to conceive a unique and ever changing scenography for the Lenny Kravitz Strut tour.
The two designers repeated the magic they had introduced for the earlier 2011 tour, but this time making the centerpiece an automated retro-style overhead sphere, with unfolding petals revealing the light sources, redolent of the global 'superdiscos' of the 1990s.
To animate this mechanical sculpture — which was expertly fabricated by Tait Towers — they populated it with a total of 12 GLP impression X4 XL, 16 impression X4 and 32 impression X4 S; the inventory was supplied by Philadelphia based rental company, Atomic Lighting, and this was the first time the new X4 XL had been specified in North America (albeit for a European Tour).
The GLP platform is entirely familiar to both Cohen and Barancik, who have used different variants of the impression over the years, dating back to their famous collaboration on the Star Wars tour of 2010 and beyond. And by deploying all three sizes in the X4 family, programmer Barancik was able to achieve a myriad of effects.
"I find the GLP X4 family to be my go-to LED fixture these days," says Steve Cohen. "They are as reliable as it gets and have an almost organic feel to them, which is rare in an LED fixture.
"Since so many of my designs look to lighting as an architectural element, having this variety of sizes in a single sphere gave me an almost cinematic theme of special effects in a live setting."
All the programming took place in France — initially at a Paris studio before relocating to Amiens and going into 'full trim' where the possibilities of the mechanical rig could be explored in greater detail.
"The programming stage gave us the chance to see how the system really lived and breathed, creating focuses and other visual elements that provided a foundation from which to begin developing songs."
With Bryan Barancik's programming duties complete, Jesse Blevins took on initial touring LD duties —with the former later replacing him as part of a new production team during the Europe leg.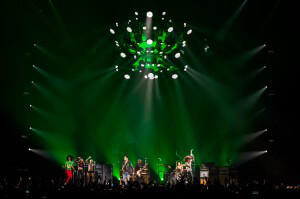 The sphere represented an impressive piece of engineering, he noted. "It was technically sound and worked well with other departments." This ensured that the impressions were seen to optimum effect
"I have used the X4 on many shows and know that it's a work horse with superb dimming and color," commented Barancik. "The new X4 XL has been a great addition and it was the first time I had worked with it. Once we had a profile built it worked extremely well — it fits well in the X4 series and holds its own among a plethora of other profile fixtures."
During the show the X4 are deployed in many different ways, sometimes used as the complete artillery, providing a complete symphony of light, and at other times broken down into any of eight individual moving petals. "The XL became both a great downlight and band wash — and we also used them as specials." he said.
In fact the cybernetic sphere had the ability to transfigure at will, bringing the best out of GLP's flagship impression series. The importance and diversity of the range was illustrated no better during the set than in numbers such as New York City, Fly Away (when the unfolded sphere transformed into a spaceship) and Are You Going To Go My Way.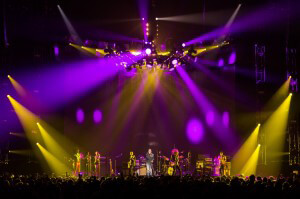 Barancik agreed. "Those songs showed the flexibility of both the sphere and the fixtures — but also the song Circus really made interesting use of them while it was in the set; it's very asymmetrical and uses some very odd green and CTO combinations while strobing at different rates."
"Another important feature of the X4 family," he says, "is the ability to create a superb daylight white and tungsten. This is particularly important for the Lenny Kravitz show."
Finally, he says, they were a perfect complement for the rest of the lighting rig, providing "a cohesive aesthetic to the entire show."
And picking up on the same theme, Steve Cohen summarized, "The sphere is clearly one of the most unique touring scenic lighting elements in the world, and we could not have pulled it off without the lightweight and effective illumination provided by these GLP fixtures — not to mention that as a company, the support we designers get is unparalleled."
Photo Credit: Jessica Gilbert