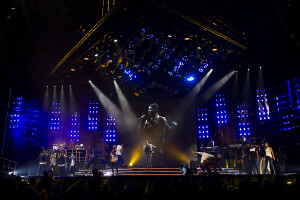 When American R&B/Hip-Hop star Usher set out on his 50-date The UR Experience US and European tour to promote his latest album (UR), his touring LD Eric Wade (of FOHShow) was carrying an inventory that included no fewer than 216 of GLP's compact and highly flexible impression X4 S LED spots.
They form a focal part of the design conceived by production designers Baz Halpin and Chris Nyfield (Silent House) and Wade himself. Coincidentally, all had been early adopters of the X4 S platform.
On the UR Experience Tour, these are mainly deployed on the upstage wall of the automated ladders. Wade confirmed, "I wanted a wall of light from the very beginning and Baz and Chris made the space. The lighting system is a combination of asymmetrical and symmetrical. However, the GLP ladders are symmetrical and run on automation up/down/stage left/stage right and we could get many different looks out of them as a result."
Eric Wade, who has been working with Usher since 2001 (initially alongside Peter Morse), can certainly trace his own history of using GLP X4 S back a long way. "They were one of my first LED fixtures to feature in my designs back at the beginning of the LED craze. They were a great fixture then, but over the years they have developed into a fixture that is highly dependable, very bright and has many bells and whistles."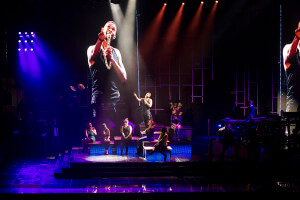 And he added that having Halpin and Nyfield on the team had been a huge bonus. "They are great to work with, but being lighting guys as well really makes a difference as they left me all kinds of places to put lights within the set. When everyone starts throwing out ideas it evolves into something we can all be really proud of."
Despite the large quantity deployed, the X4 S is introduced very gradually into the show. "I didn't want to turn on all 216 units on the upstage wall in the first song and lose that element of surprise, because when they do all come on at one time you can't help but look on in awe.
"So instead, we started introducing them behind twin wall covers, looking like frosted glass, that Baz and Chris designed. In this way they start as a scenic element and end up uncovered with a giant rock n roll look of tight beams and color. In fact they are the one of the main focal points of the system."
He was then able to play with all the features — particularly the 7:1 zoom ratio. "We flood them way out when set behind the glass, and then the four side ladders also light the band, zoomed out. Of course you have to do the big tight beam looks too. Unlike lamp fixtures you can always get good colors, and never have to give up any due to fixture limitations."
Prior to the tour, the show had been programmed at Rock Lititz Studios in Pennsylvania, followed by full production rehearsal at the Liacouras Center at Temple University in Philadelphia before the tour opener in Montreal. "We had a very good amount of program time, largely thanks to the experience of production manager Harold Jones, who knows what it takes to make a good show. We couldn't have done half of what we did without Harold making sure we got the time to do it."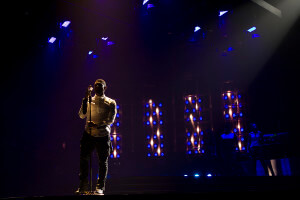 Initially the tour programmer / associate was another GLP aficionado, Eric Marchwinski, who took care of all initial programming prior to Eric Wade taking over, while all inventory was provided by VER. "The team VER put together sorted me out in every way," credits Wade. "There are many great lighting companies these days so at the end of the day it's all about the service and support you will get. VER has absolutely done this for me on this tour."
And summing up the reasons why GLP X4 S has been such a favorite part of his inventory, Eric Wade says, "It has been a perfect instrument for me that I will now be putting in my designs on a regular basis. The size, versatility and output make it useful for just about any situation.
"In this instance we needed a large amount of fixtures which had to fit within a budget. They are workhorse lights and you always end up wishing you had more!"
Usher tours 23 cities in Europe for the first time in four years, beginning in Copenhagen on February 27 before arriving in the UK on March 14.
Photo Credit: Todd Kaplan