When the Christian Life Center (CLC) in Tinley Park, IL, wanted to supplement its existing technical infrastructure and add automated lighting technology to its services, the organisation brought in lighting consultant, Jason Reberski from JR Lighting Design Inc, to advise and supply a solution.
"The stage needed a backlight system, (as the church also handles video broadcasts), as well as a repositionable 'special' system — and it needed to integrate with minimum impact on the existing power infrastructure," he recalls.
The church itself supports a multi-cultural congregation of 1,000-1,500 people and the lighting would be deployed to highlight celebrants, officiating clergy and guest speakers as well as provide impact for performing bands and musicians.
Jason selected 12 of GLP's impression X4S fixtures to handle basic lighting needs — principally backlight as well as 'special' keylight. "But the added advantage is that they can also be used for effects and color washes," he notes.
Initially the Church's Media Director, Eduardo Marroquin, had become aware of GLP after visiting the WFX worship facilities expo almost two years ago and as a result the package was specified to include the impression X4S.
These LED heads are virtually maintenance free, boast extremely low running costs, and being ultra-compact also carry weight/size advantages. But the designer is also extremely impressed with the moving head's technical attributes.
Reberski notes, "For starters, the 7°-50° zoom in such a small fixture is very impressive and beneficial to its use in this application. The RGB+W homogenized LEDs offer an added benefit in that the addition of white light to the mix enhances the quality of certain colormixes and as such the CRI (Color Rendering Index) of the white light — which is absolutely crucial to providing good skin-tone and scenic color rendition.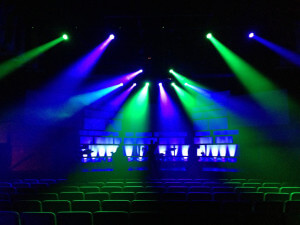 "In addition the X4S units have a zoom function that offers a sharp beam at its narrow 7° output — this achieves a super tight, mid-air beam effect. In fact I designed and programmed a DVD taping for Christian singer Brandon Roberson at CLC last month and used that feature to great effect."
While four of the impression X4S units are placed on the FOH front-light position, and used for color washes, fill light and (when zoomed down) repositionable front-light specials, a further two are placed on the mid-stage lighting position and offer backlight for the downstage apron, keylight for the upstage area or top-light for the mid-stage area. The remaining X4S units are placed on the upstage lighting position and are utilized primarily for repositionable backlight, washes, architectural-style scenic 'grazing', and blinder/beam effects. 
For the upgraded control aspect of the install JR Lighting Design specified and provided a High End Systems Nano Hog 4 console.
In operation, Jason Reberski reports that the X4S is extremely fast and responsive. "But despite the fast movement speed it is very smooth and 'theatrical', in slow, calculated moves," he appraises.
"I am 100% satisfied with the X4S. In fact it was easy to see that they were excellent for the application at CLC and having personally programmed them for a large show I can certainly say that they are workhorse fixtures for small to medium applications."