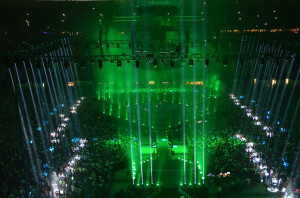 Veteran production designer Günter Jäckle has continued his long tradition of using GLP's evolving impression range in his set designs, at a recent one-off spectacular at the massive Veltins Arena in Gelsenkirchen (home ground of German Bundesliga club, Schalke 04).
Best known for his production design work with the Scorpions or Grönemeyer, Jäckle this time used GLP's new large format X4 XL for the first time with another legendary band, PUR. Billed as "PUR & Friends Mega Event", it was the fifth time they had played this 75.000 capacity venue in 14 years (and their only live show in 2014). Needless to say there was not a spare seat in the house.
Jäckle started working with the band in the mid-90s, and initially adopted GLP's original impression 90. Here in Gelsenkirchen he used ten of the giant X4 XL heads, which containing no fewer than 55 15W RGBW LEDs, coupled with 7°-50° zoom optics, make its power and punch unmatched in the lighting market.
These were complemented at the other end of the scale by 32 of the smaller impression X4 S (GLP's compact solution, producing its output from just seven of the 15W Osram LEDs). With their tiny footprint they provide a highly flexible and versatile solution, and were used in this application to mark the stage. He also used some of GLP's X4 fixtures.
These fixtures, provided by rental company epicto GmbH, added both colour and drama to the veteran pop band's set design, which was co-conceived with Friederike Krauch, while Jonas Harth operated the lightshow. The X4 Series was also chosen in view of how well the fixtures register in camera shots.
This show continued the outstanding success of the X4 XL since its launch earlier this year, with German rental companies, including Cape Cross Studio- und Filmlichtgesellschaft mbH, placing orders.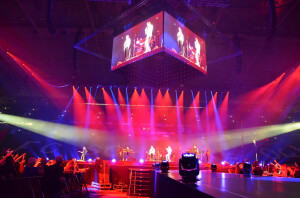 It has featured in momentous events in Germany, such as the 25th anniversary of the Fall of the Berlin Wall, and with other leading German lighting designers, Rainer Becker with the Scorpions, Jerry Appelt on the prestigious Bambi Award and Thomas Gerdon on the Nature One dance extravaganza.
Over in the UK New Zealand band The Naked And Famous luxuriated in the powerful side washes generated at Shepherds Bush Empire in Liam Griffiths' expansive set, as he became the first UK user.