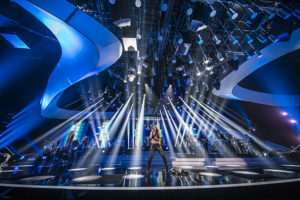 Jerry Appelt uses new GLP GT-1 hybrid spotlight for ESC 52 
On 9 February 2017 five candidates presented themselves before a specialist jury and a Europe-wide television audience, and fought for the right to represent Germany at the Eurovision Song Contest 2017 in Kiev.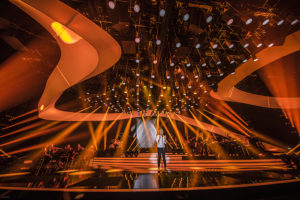 With the eloquent Barbara Schöneberger presenting the show, former ESC winner Lena Meyer-Landruth sat next to Tim Benzko and Florian Silbereisen in the three-piece jury. The show was broadcast live under the management of the NDR from the studios of Cape Cross Studio + Filmlichtgesellschaft GmbH, one of Germany's leading suppliers of film and TV stage and lighting technology, in Cologne-Mühlheim.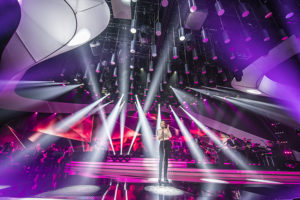 The lighting design for probably the most important pop contest on German TV, came again from the hand of Jerry Appelt, who is almost a fixture at the Eurovision Song Contest. In 2011 in Düsseldorf and 2012 in Baku he was already lighting designer of the Final shows. In addition, in 2013 he designed the lighting for the Junior ESC in Kiev and in 2014 he took over the lighting design for the preliminary German voting for the ESC — just to name the most recent ESC appearances.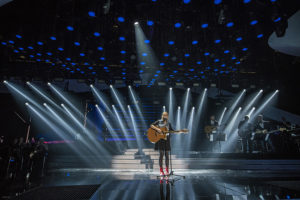 The new GLP GT-1 hybrids, of which Jerry Appelt had specified a total of 52 pieces in his design, were extremely prominent and always in camera shot. "This lamp takes care of everything — design, performance, output and features," enthused Appelt about the GT-1. "It's the whole package that's impressive: beam, spot and wash all combined in such a compact footprint. Thanks to its slim design and the absence of the classic base, the GT-1 can be perfectly integrated into a set without having to conceal the lamp. For this, it just seems too good, and with the new light source I do not have to worry about reliability issues."In fact, we did not have a single problem with the GT-1 from the first set-up day to the last minute of the show," adds the lighting designer, who has been specifying GLP's spot and wash lights for many years.Equipped with a 440-watt discharge lamp, the GT-1 offers a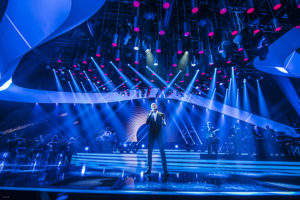 unique zoom range of 3.5 to 56.7 degrees — equivalent to an impressive 16: 1 zoom ratio. This hybrid spotlight also features a CMY color mixing
system plus an additional color wheel, eight rotating and 14 fixed gobos, a high-speed shutter and three rotating prisms. The GT-1 is fitted with an auto-sensing power supply, and an internal battery makes the programming and addressing of the GT-1 possible remotely from the network. The compact baseless design completes the feature set of a lightweight fixture weighing just 25kg. In conclusion Jerry Appelt is unconditionally positive: "We produced a great live show with great looks and we were completely satisfied. The GT-1 continues to be a realistic option for me."
Photos: Ralph Larmann