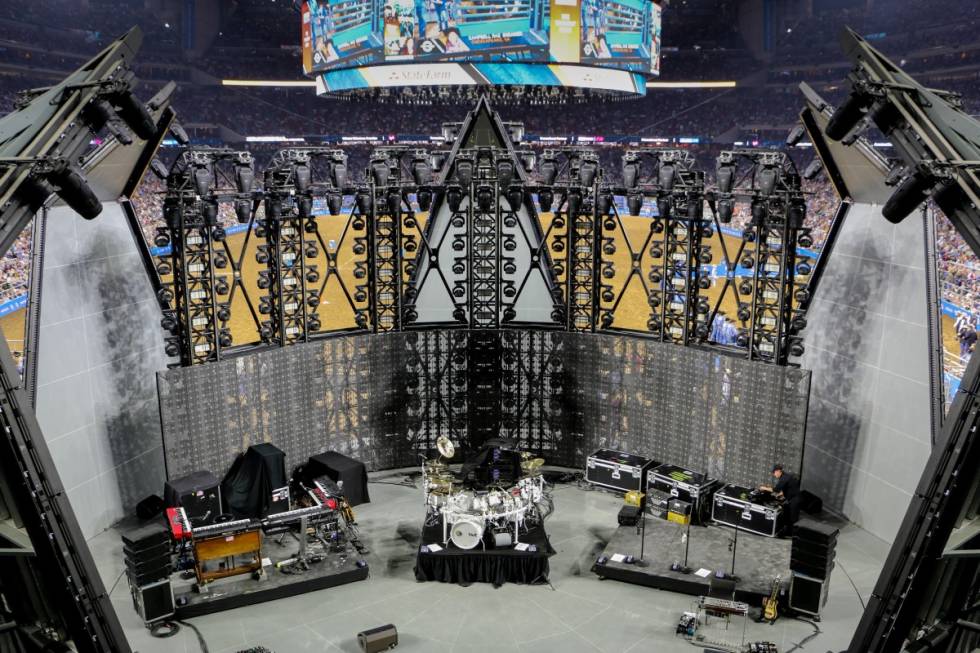 Known colloquially as RodeoHouston, The Houston Livestock Show and Rodeo (HLSR) is the world's largest livestock show and richest regular season rodeo, dedicated to benefiting youth, supporting education, and facilitating better agricultural practices through exhibitions and presentations. It draws more than 1.4 million people each year to the 72,000-capacity NRG Stadium and over 2.5 million people to NRG Park to enjoy the entire festivities
Running for 20 days in February-March, it attracts the very top names in country music, from Garth Brooks through to Brad Paisley, who perform after the main rodeo event each day.
Such high calibre artists demand top concert production values and this year the Rodeo boosted its technological infrastructure by purchasing a new stage—built by TAIT in Lititz, PA. Working closely with TAIT, and leaning heavily towards GLP fixtures, were Houston based LD Systems. The company has been servicing the rodeo since 1985, and provided all technical design, live sound, concert lighting, HD video screens, custom truss structures, rigging equipment, production crew and logistics throughout the season.
LD Systems is headed by Rob McKinley, who has specified over 300 GLP fixtures, comprising 140x impression X4; 70x JDC1; 108x impression X4 Bar 20 and 16x X4 Bar 10.
The process of designing and building the new stage started after the 2015 event, which is when LD made the recommendation to HLSR to engage TAIT to provide a vibrant structure for the 72,000 capacity stadium. In deference to the Lone Star state, this was conceived as a five-pointed star as depicted on the flag of Texas.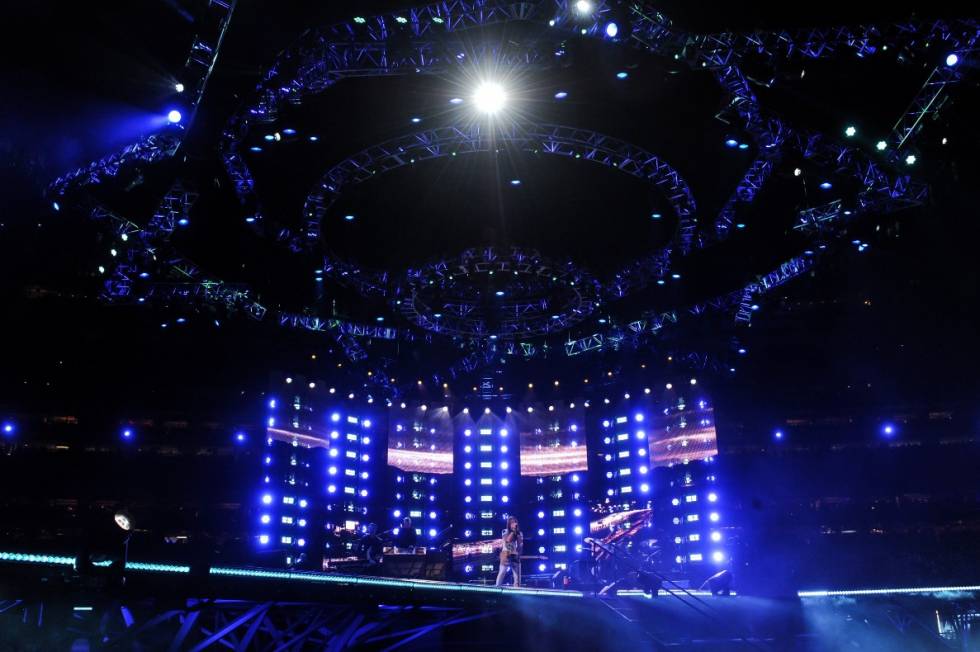 Having successfully pitched the idea to HLSR to take the next step in sound reinforcement, the benchmark was set to generally elevate the production value.
The new rig measures a massive 125ft across, from star tip to star tip, and the revolve is 48ft in diameter.  The stage height is 7ft and the dynamic video/lighting back wall is 28'ft high above the stage deck and spans 56ft wide.  The entire stage weighs in at 350,000 lbs and supports no fewer than 434 lighting fixtures.  "It is absolutely 'Texas Sized'", states Rob McKinley. 
LD Systems lighting designers, headed by lead designer, programmer and operator Nathan Brittain, deployed a stadium wide arrangement of moving lights creating spectacular displays in combination with HD video content displayed on high-resolution 5mm and 7mm LED video walls arranged to provide an immersive video experience for every audience member. "Having 20 shows in a row with a variety of genres, you want to be able to generate something unique and specific to whoever the artist is on any given night," believes Brittain. "Knowing that, we tried to load the system up with lighting tools that allow us to accomplish that goal." And for the most part this was GLP.
LD Systems' experience of GLP products dates back to the impression X4, which they invested in shortly after it was released.  "It quickly became our most popular and hardest working wash light," he confirmed. "Since then, we have increased our inventory of X4's as the demand was so high.
"In fact we have had such a good experience with the X4, both in performance and quality, that GLP was at the top of the list of products to explore when working on this project.  We also knew we wanted a ton of sources for the stage but needed to keep power needs under control, so going with primarily LED fixtures was important.  GLP had the range of options we needed for this, we knew the quality would be good and their products are sought after by many others in the industry."More Than 300 GLP Fixtures Light Up RodeoHouston's New TAIT Stage
As to the deployment and functionality, the X4 Bars create an outline of the star-shaped stage all the way around—occupying a custom position that was designed with the  Bars in mind, allowing them to sit below the deck line, so when tilted towards the stage they can light up the deck. "With this many units, it really brings the star stage to life. We can also tilt the X4 Bars out towards the audience for a stage outline look, and even use them as foot lights for performers when they walk out on the star points." 
On the backdrop, there are 14 vertical rows of X4's, each 10 high.  Explaining his fixture choice Nathan Brittain said, "We used a smaller number of X4's on the old backdrop and we liked the versatility and looks on camera we got behind the artists.  We wanted to continue that but just wanted to make it bigger and better—nearly quadrupling the fixture count did the trick." They also fire through the dynamic moving video wall depending on positioning and orientation.
Inside the towers that make up the backdrop are the JDC1's, set in seven vertical rows, each 10 high. Nathan explains, "From the start of this project, I really wanted that LED color brick look in the backdrop.  In addition, we have never had a strobe fixture behind the artists and wanting to change it up this year.  When this fixture was announced I knew it was what we needed for this stage, it checked all the boxes and then some.  Having the cell control and the ability to tilt just adds to the versatility and dynamic looks we can get behind the artists."
At the product evaluation stage, he says the GLP products consistently stood out for their build and output quality.  "Consistency is important when you're talking about this many fixtures, and GLP delivers that. Also, their ability to give designers and programmers so many layers of options was a key factor as well."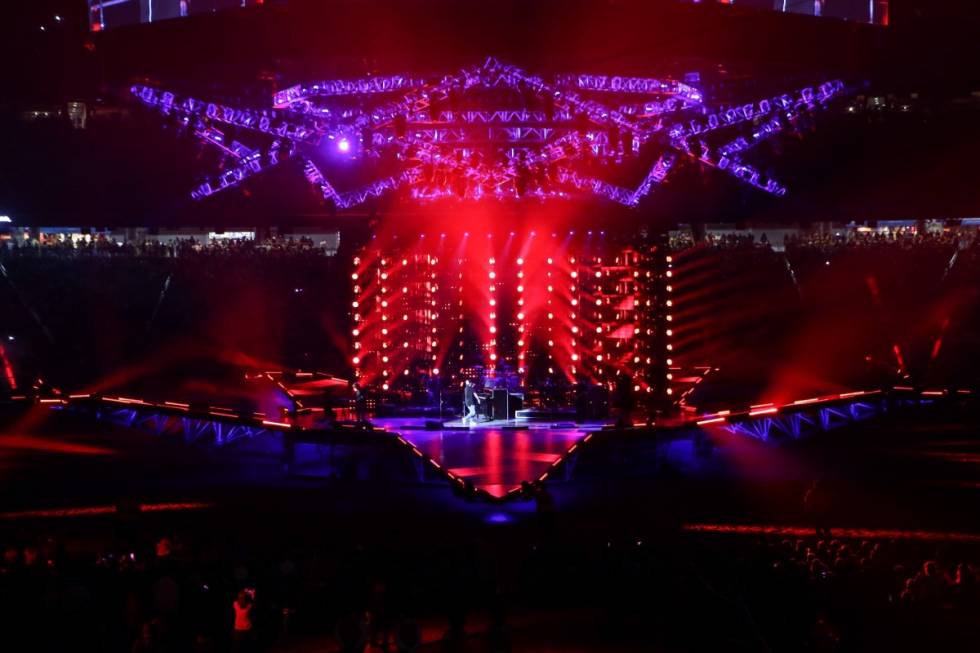 He said the support from GLP had also been exemplary. "Numerous times they sent us demo fixtures to keep for extended periods while we did testing and evaluations.  They even sent fixtures to the stage manufacturer at TAIT during the build so they could customize and verify the different mounting locations on the stage."
In summary the designer says, "The fixtures have been just what we expected from GLP — great output, reliability and a wealth of options to continue to impress audience members. 
"GLP's new generation products are very appealing because of their variety of application options, all the dynamic effects tools they provide and the trust in the brand for performance and reliability.
"With the JDC1 in particular you don't have to compromise on anything as an LD looking for a strobe light; color washes and strobes when you need it, classic xenon tube strobe look when you want that, and all with intense output — plus it tilts!  And that's without mentioning the endless effects you can get out of the macros and pixel mapping.
And the final word comes from Rob McKinley. "In my opinion GLP products provide stunning results. The feature set is second to none and allows for endless visions to be brought to life. These are truly boundless creative tools."