A major international trade convention in Paris, organized by Canon, saw several thousand visitors arriving in the French capital for an event that lasted five days.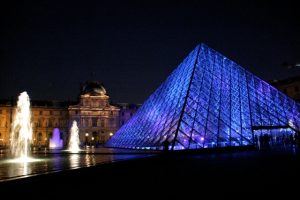 One of the major highlights was the exclusive gala event on the evening of October 12th, 2010, that was set out for 850 VIP guests and located in the famous Louvre Museum. The artwork was by Zobelfilm, Berlin and Burkhard Jüterbock was responsible for the lighting design. Thus, the iconic pyramid in the courtyard of the world famous art museum was put into perfect focus.  Illuminated by more than 300 lighting fixtures — including 114 GLP impressions — this Paris landmark was bathed in an ocean of colour, which created a warm and pleasant atmosphere under the usually rather sterile looking glass dome. For one night only, it was converted into an easy, comfortable lounge. The show was preprogrammed using WYSIWYG and then tested with a 1 to1 build-up at the company AV Lang.
The installation commenced the day before the event (at 10pm) and the load-in and production build up were complete by noon the following day. Rehearsals took place before the gala started at 18:30 pm. The tear-down took just six hours and started immediately after the end of the show — hence the strict time schedule could be achieved within less than 48 hours – a record-breaking performance! In addition to th military style get-in and load-out, the lightshow itself was hugely popular and the energy efficiency of the event was noted at a time when nuclear energy and carbon footprint was in the media spotlight. Only 55kW total electrical load was necessary for the lightshow and installatio, spread across 330 fixtures.
Largely responsible for this huge saving potential were the 78 impression RGB and 36 impression CCW white LED fixtures. For a lighting concept with conventional moving heads, as well as daylight and discharge lamps, an electrical load between 150 to 180 kW would have been necessary.
The choice of using LED floodlights helped to reduce the energy by nearly 60% — an impressive statistic that clearly shows how efficiently LED technology is working. In addition to the cost savings, these fixtures are helping to protect the environment —which should be vitally important for every one of us.