The GLP impression Wash One will be making its North American debut and running alongside the impression Spot One which started shipping earlier on 2011 and has created quite a buzz for its purely LED based feature set.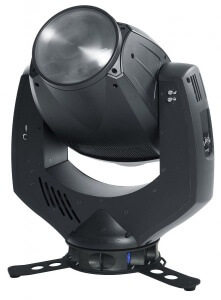 Located at stand #659, GLP has chosen this year's LDI Show in Orlando (October 28-30) for the North American launch of its revolutionary new LED washlight from its impression range, as well as a new video display and controller from G-LEC, and new IP65 outdoor rated and battery powered fixtures from its Scenex Lighting range of LED scenic lighting fixtures. A wide selection of Global Truss products will also be displayed on the stand, with experts on hand to answer questions.
Boasting a 400W RGB LED light engine, and the same groundbreaking technology as the Spot One, the fully-featured Wash One is able to deliver delicate color changes or instantaneous color bumps over a wide, carefully-calibrated spectrum.
The impression Wash One offers a 6°-60° zoom range — but the key differentiators are its innovative 3° narrow beam mode, and its unique variable soft-edge beam control that allows softness adjustment. Another sought after attribute is its beam shaping function that enables users to illuminate only the parts of a stage that need to be lit.
With its baseless yoke the Wash One weighs just 48 lbs. — perfect both for transportation and flexible stage rigging (in any orientation).
Meanwhile, G-LEC, originators of the semi-transparent video panel, are introducing the Phantom 15, which uses latest technology to deliver maximum screen brightness in a new 15mm pixel pitch format.
Phantom 15 offers a new level of flexibility at a higher resolution than has previously been available. It incorporates seamlessly with other panels in the Phantom range of different resolutions (Phantom 30 and Phantom 60) to create a uniform mixed screen, and maintains the Phantom heritage of maximum transparency, lightweight construction and fast assembly / disassembly.
The Phantom 15 is daisy-chainable, uses the newest and most innovative LEDs on the market (to maximize both contrast and brightness) and runs without fans.
G-LEC will also be launching the new G-LEC Video Processor.
Available in three versions (Pro, Standard and PC) generic features include a 30 second set-up time (with automated placement, snap features and stage plan picture underlay), intuitive 'What You See Is What You Get' placement, offering individual panel scaling and a single video input to many different pixel pitches, to name just a few.
Scenex Lighting, the company's scenic lighting division will be showing IP 65 rated versions of its fixtures. An outdoor rated version of the Studio Par fixture which features a 20 x 3W RGB LED engine is now available. Also on display will be the all new outdoor rated version of the Fusion 60 RGB LED Batten. With interchangeable beam angles, the Fusion batten offers even color mixing for a wide range of applications.
Finally, Scenex Lighting will also be showing a new addition to its Studio Par range. Based on an instantly recognisable Par style housing, this new fixture has a battery powered RGB & Cold White LED engine. With a combination of both LED types it features bright output with a 25 degree beam angle as standard and smooth color mixing across the beam, a hallmark of Scenex Lighting's product range.