After completing a North American tour of theatres, arenas, and amphitheaters (up to 10,000-cap.), Californian-based alternative metal band Deftones arrived in Europe in June for a series of sell-out shows in their own right and participation at major festivals.
Deftones' lighting and production designer, Jon Eddy, has worked with the band and their long-term production manager, Andy Tinsley, for a number of years and knows implicitly how best to light their shows, interpreting and building on the vibe put forward by lead singer Chino Moreno. This time around, he explains: "I wanted to go for something as far away as I could from a typical metal show; instead, I wanted to create something more theatrical, and make it one big, all-inclusive canvas from the floor to the sky."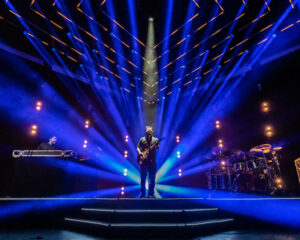 Helping him achieve his goals, and proving rock solid throughout, is product not only from the GLP catalogue (notably the JDC1) but GLP Inc.'s Scenex Lighting range, the latter in the shape of LED Pixel Tape, which arrived in Europe as the newly named Shadow Line.
The US inventory included eight JDC1 hybrid strobes, suspended on 24ft pipes, hanging between automated DMX rollers for projection. Two JDC1s were allocated to each pipe, and an additional JDC1 for each projection roller, which were used to either uplight the roller or backlight the band.
Programmed in the maximum 68 DMX-channel mode on an Avolites D9-330, Eddy is completely familiar with the enormous versatility of these hybrids. "I've been using these and the X4 Bar 20s probably since the first year they came out," he says. "These are two fixtures that have become staples in many designers' rigs."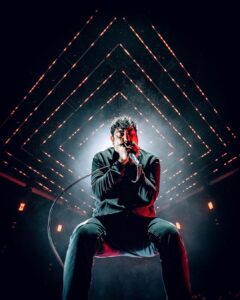 This was complemented by the LED Pixel Tape, which has been playing a specific role. In the US, Eddy used it to outline the stairs and risers that make up the set. Eddy kept it completely white – dispensing with color in accordance with Chino's request. "It looks more classy that way," he says.  In fact, Chino and the band were so impressed that by the time they arrived in Europe they had purchased a second batch of Shadow Line as the set was boosted into a slightly revised format.
Eddy also used the medium to push Avolites Synergy software, with video passing through it, this time in full color, utilizing individual pixel control for parts of the set.
Scenex's IP65-rated LED Pixel Tape offers full RGB control of each individual pixel, making for a flexible, high-resolution solution indoors and out. The new Shadow Line uses a black silicone housing that makes the LED tape completely invisible when not in use and has the advantage of being more bendable than regular LED tape.
Jon Eddy says he was first attracted to the product after seeing it on the GLP stand at LDI a couple of years ago: "I've always been a fan of GLP products, so when I learned about the DMX controllable tape, I wanted to try it."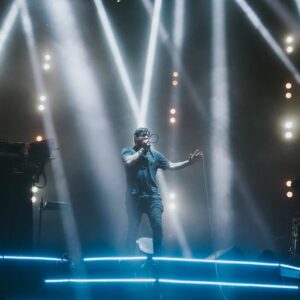 All inventory was supplied by Christie Lites in the States, where Jon Eddy programmed and directed the show before handing over to Mathes Kuhn and Corey Stewart in Europe (working with hire company Entec Live). "We have done a few Deftones European tours together now with Entec, where Noreen [O'Riordan] has always taken great care of us," he adds.
Jon Eddy led a lighting crew that included Ruben Laine, Dan Arnold, Luis Herrera, Casey Wadell, Pepe Salas, and Joe Rich in the US, while over in Europe the Entec lighting techs were James Dixon and Angel Gutierrex Redondo.
Photo credit (for 'Deftones3' and 'Deftones_SEATTLE'): Ed Davis