Once again, GLP will be exhibiting at the PLASA show in London and using it as a launch pad for their latest LED fixture, the Volklsicht Spot, along with the UK premiere of their new impression X4.
G-LEC will also be present and showing the latest additions to their range of creative video solutions on their stand located at 1-F8.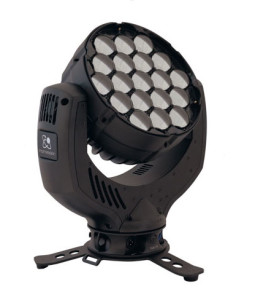 The German company continues to play a very active role in the show, and in addition to showcasing its expanding portfolio, it will also be helping to decorate the main PLASA entrance with their fully rigged 'flower stands'.
Pride of place will be given to the new Volkslicht Spot on the stand though.
Treading in the footsteps of the ground breaking impression Spot One, the Volkslicht Spot features a powerful 230W RGB LED light engine, and the same optical principles allowing it to project a full spectrum from deep saturates to light pastel shades, with smooth cross fades or instantaneous color bumps.
The Volkslicht Spot offers a full feature set, including a wheel of 7 rotating gobos, 11 fixed gobos, a rotating prism, 16 bit pan and tilt, motorized focus and a fixed beam angle of 13 degrees. Its compact size and lightweight design will be sure to impress though and show visitors how it's now possible to achieve stunning quality and output levels within a small package.
Receiving its UK premiere will be the impression X4. Incorporating 19 quad color LED chips creating a high output unit, the X4 features a 7:1 zoom ratio from 7 to 50 degrees with consistent color mixing at all beam angles as users have come to expect from the impression range of fixtures. Its unique feature allows users to program each individual LED on the fly and create dynamic, patterns, static looks and chases as and when they choose to do so.
Also on display will be the impression Spot One which has firmly established itself at the cutting edge of LED profile technology, along with its wash partner, the impression Wash One.
Meanwhile, G-LEC, originators of the semi-transparent video panel and popular Solaris system, will be showcasing the latest additions to their GVP video processor. Available in three versions, including a PC version, the GVP has been turning heads since it was first shown, due to its intuitive 'What You See Is What You Get' placement, which offers easy to use individual panel scaling, and rotation control.