The 10th anniversary edition of the iHeartRadio Music Festival took place recently in Los Angeles. Among the stellar cast was Usher, broadcasting from a red-lit stage. Both his 20 minute set, and the generic lighting rig at the iHeartRadio Theater LA, were studded with GLP fixtures—supplied by locally based Volt Lites and put to work by LD Matt Ardine and programmer Mark Butts.
While the generic rig itself contained a ceiling of 36 GLP X4 atoms—described by Ardine as "an inexpensive way of making the lighting rig look large"—along with no fewer than 77 discreet  GLP FR1's, Usher's set featured GLP FR10 bars, at the request of the artist's design team, Eric Gorleski and John McGuire from TrasK House creative agency.
"We wanted Usher's set to feel different than the other performances at the Theatre, with a more intimate, but still 6ft socially distanced feel that drew focus to the live band and Usher's dance," they remarked. "As we didn't have a backlog of video content, we knew we needed to lean heavily on a lighting element.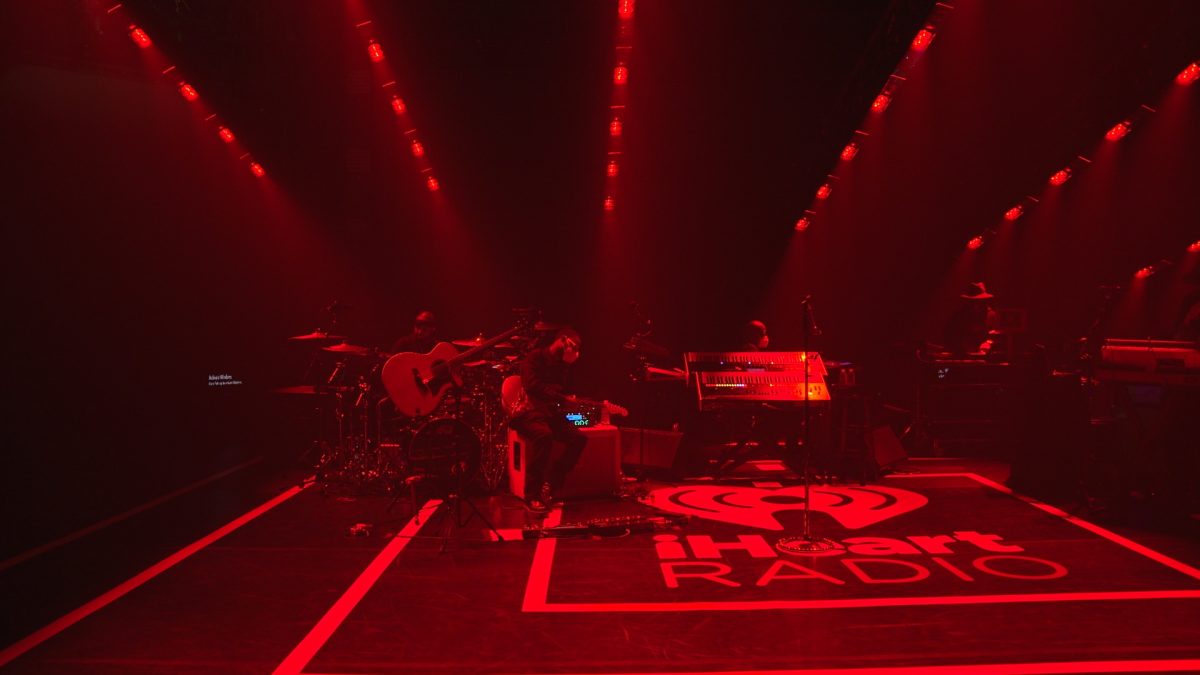 In stepped Matt Ardine, who is one of iHeartRadio Theater LA's regular LDs (as is Mark Butts). "I designed the base rig for the whole festival then worked with every artist's team to create an individual look that works for their artists' brand.
"TrasK House already had an idea in mind for Usher. They sent over the plot for their rig and I immediately replied that I loved it!"
This hinged around how they wanted to use the FR10 bars in the Usher set, which the LD would be using for the first time. "After the rig was installed, Eric and John went over the programming and gave Mark more detailed notes for each song," said Ardine.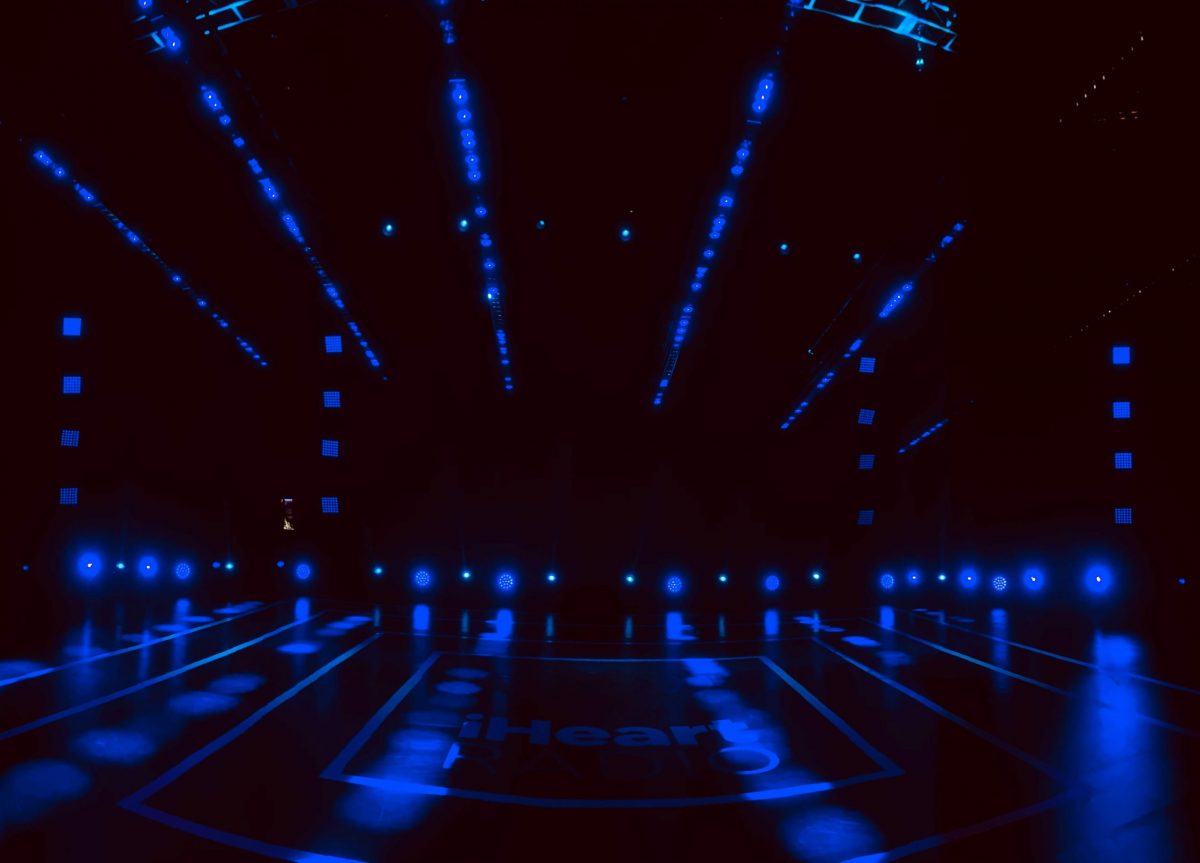 "Matt and Mark understood the concept immediately and were excited to try out the new FR10 Bars to accomplish it," noted the TrasK House team. The creative team worked closely to set the angle and trim of the light ceiling to maximize effectiveness on camera. "Mark quickly saw how powerful the FR10 bars were and was able to really lean into them as the primary source throughout the performance."
The theatre had been carefully adapted for COVID-19 as Matt Ardine explained. "For this show, we ripped out the stage and did a 360° set that filled the whole stage and audience floor. As the existing rep plot wasn't effective with this new setup, we took down every light, moved it to a new position then also rented another 200 lights to fill the space."
But Ardine says that having no audience really opens up the creative possibilities. "Generally, most of the time all that matters is what we see through the lens. But with my pre-COVID shows, I still needed to make sure the audience had good sightlines. And from a filming standpoint, we can't stop a live audience show to do a song again and film the song with just a Steadicam pass. Having no audience has allowed us to have more workflow similar to music videos. This new format for the iHeartRadio Festival is a cross between a live concert and a music video."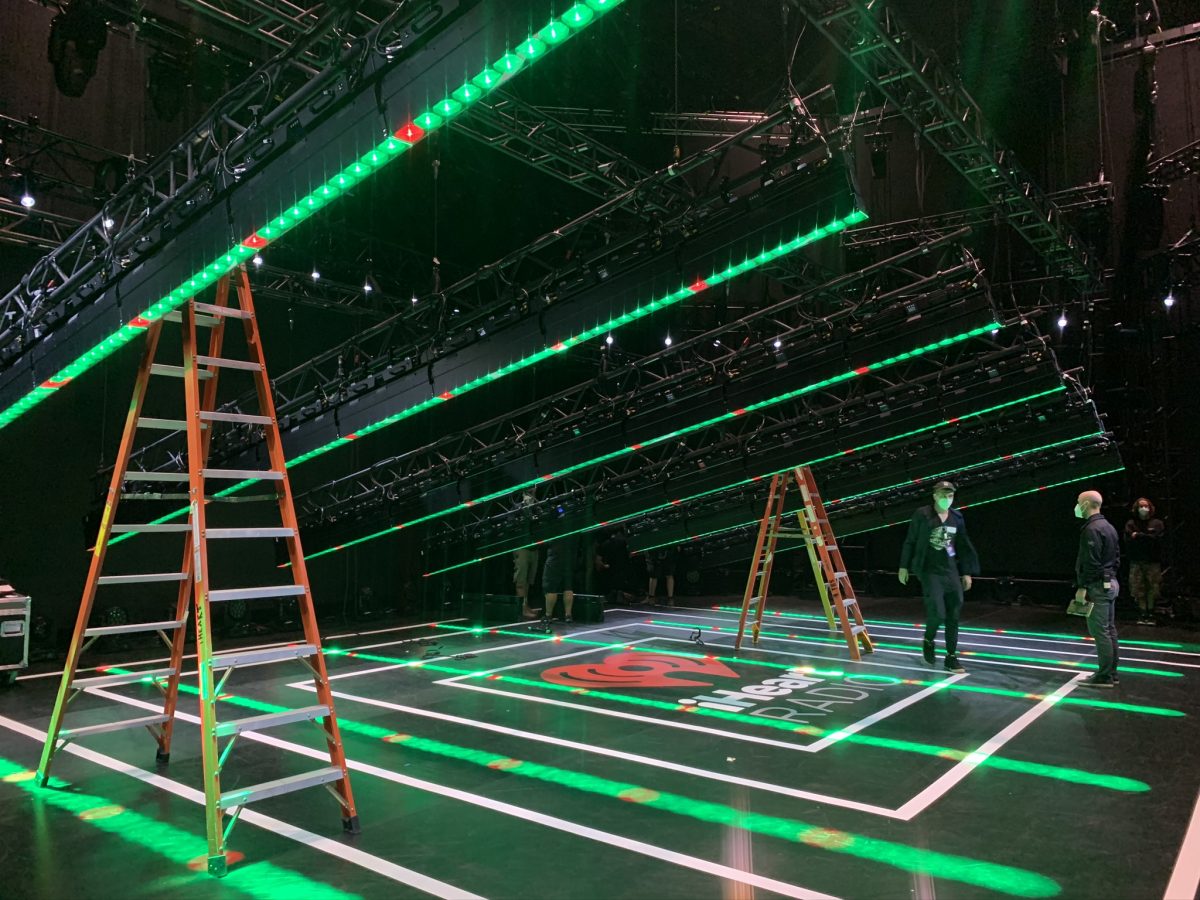 Ardine's goal, therefore, was to allow any camera angle to have a full background and the large number of FR1's allowed them to achieve this. "I love how small they are; their base just disappears. Usually we keep them full wide and dimmed way down to create hokum on camera. There were a number of times where we went narrow and had a 'thousands of beams look'." For acts other than Usher, they had a ceiling of 36 GLP atoms.
As for the FR10's, which Ardine had first seen at LDI 2019, he noted, "The fixture is unique because you can create giant beam looks from only a few fixtures. And the beams are all in a straight line with perfect spacing! When the zoom is wide, it can appear as a sheet of light. In fact for many parts of the songs, they were the only light used besides a remote followspot. The individual zooms allow the function to be versatile; it can be eye candy at one point, then a wash and then end the song as a backlight."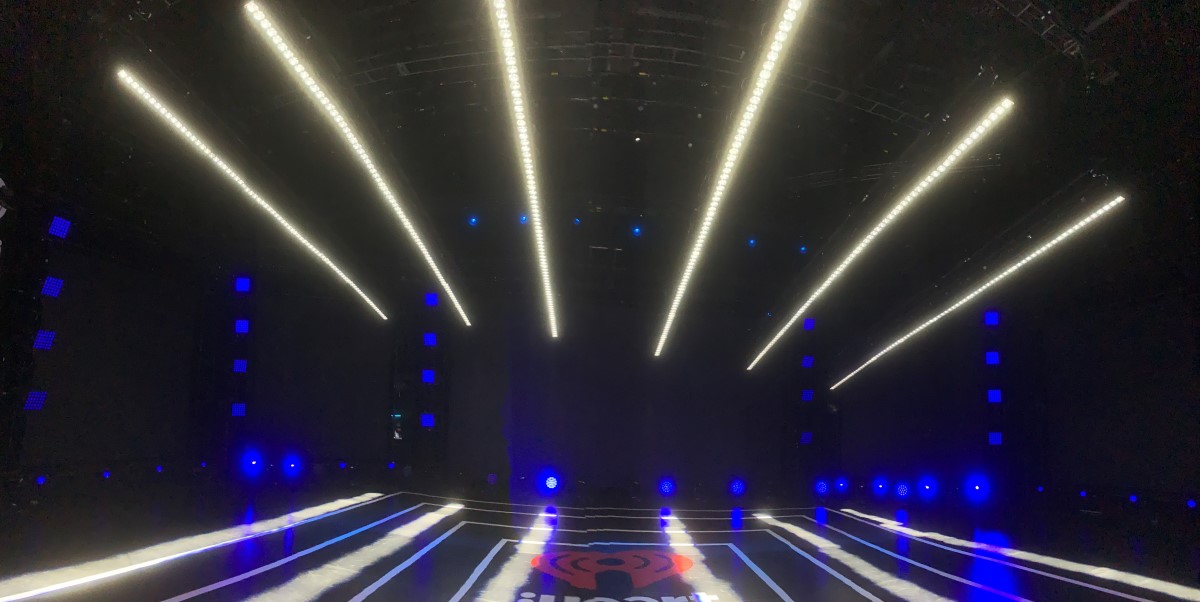 Aside from creating giant beams economically, the FR10 beams are especially bright, he noted: "When the FR10 Bars are full narrow, their beams can still be seen even with ambient light. This is pretty unique for batten type lights."
Ardine has regularly turned to GLP's solutions over the years. "They have a great zoom range, can take 120v and are light weight. We started using the X4 Bar 10 and 20 as soon as they came out. And I've been a huge fan of the atoms, using them regularly on iHeart shows likewise the Scenex pixel tape and PP16 controller."
The success of Usher's overall lighting dynamic at the festival was due in equal part to the expertise of Mark Butts, working on an MA Lighting grandMA2. "After being a regular user of GLP's X4 Bar 20s he says he was looking forward to test driving the FR10, which he ran in full control mode.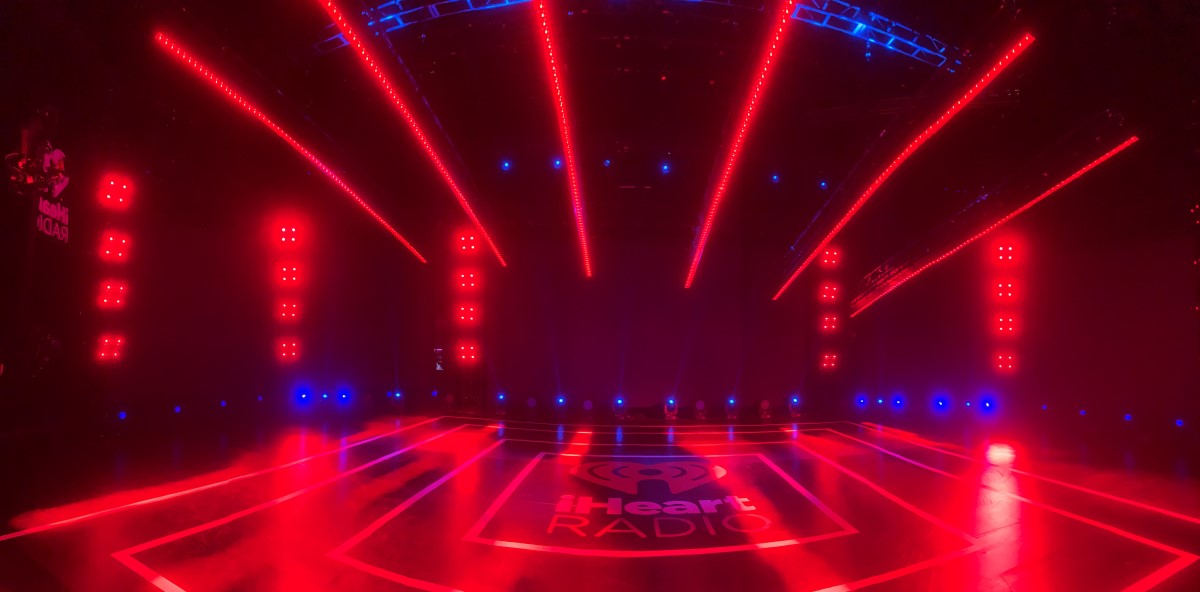 "I liked that the aperture of each pixel is much bigger than the original X4 Bar; I thought that added a lot on camera, and even the director [Michael Dempsey] commented on it. Individual zoom offers some unique looks and another layer of control—it gives the ability for great washes, but also a really versatile effects fixture as well."
Eric Gorleski and John McGuire were equally delighted with the production as was Usher's team. "We've made ceilings of light before with GLP's X4 Bars and the FR10's delivered a new, even more powerful variation. The individual zoom effects Mark programmed looked great on camera and added a subtle movement that didn't distract from the performers. The high output and wide zoom range of the FR10's allowed for great stage coverage with a reduced fixture count.
"Usher looked great bathed in highly saturated colors that helped separate each number and our performance as a whole."
And as for the FR1s within the general 360° setting, Matt Ardine concluded: "They did an amazing job—particularly with Miley Cyrus since we had star filters in all the cameras. Her set was straight out of the 1980s, and it was awesome!"
Photos: Eric Gorleski, TrasK House // Matt Ardine