German Light Products with its US based subsidiary are heading out to the LDI tradeshow in force with product launches from across its range. Excited to be back and supporting the networking side of the industry, GLP has plenty of new innovations to talk about at the show and invites all visitors to come and join them for some of the renowned GLP hospitality.
On display from GLP will be the global launch of the impression X5 IP Bar; an IP65 rated batten fixture that features 18 powerful 40W RGBL LED's, a 12:1 Zoom range from 5 to 60 degrees, and the new GLP iQ.Gamut color calibration algorithm that creates perfect white spectrums with excellent color rendering.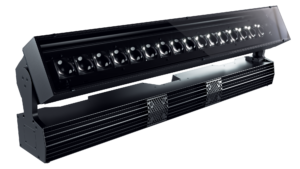 Achieving maximum optical efficiency, the impression X5 IP Bar has a new squared lens design that gives an unprecedented curtain of light at its narrowest angle and delivers smooth and homogenous washes all the way out to its widest beam.
As a part of the new GLP X5 family it offers a wide feature package, including selectable calibrated white points, a tungsten simulation channel, magenta / green correction, virtual color wheel and variable CTC, along with twin layer effects with plenty of dynamic pattern macros.
The impression X5 IP Bar offers our patented fast tilt movement in combination with seamless pixel pitch across fixtures, and features both wired and wireless control as standard.
Being IP rated, the impression X5 IP Bar's enclosure is just as suitable for indoor use on the stage to protect against confetti, fog, pyro and dust.
Continuing the bar theme, GLP will also be launching the JDC Line 500 and JDC Line 1000, both of which completed their development during the pandemic lockdown. Now fully ready to go, the JDC Line has already been used on a variety of shows and installations.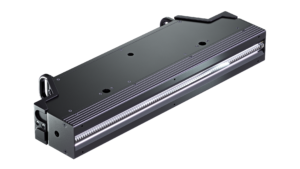 The JDC Line offers an incredibly bright RGB pixel mapping effect mixed by a special lens tube which gives a unique look and stunning design options. The fixture features a 25mm pixel pitch with each pixel segment able to split into upper and lower parts for additional design creativity.
The second part of the fixture is a powerful white light strobe, similar in style to the GLP JDC1. The LED's in this section emit through the same lens tube as the RGB sources with the same level of pixel control with each measuring just 25mm.
Also from GLP, will be a preview of the upcoming impression X5 washlight, scheduled for release in the first quarter of 2022, ushering in a new generation of technology in the world of LED automated washlights.
The GLP impression X5 uses 19 powerful 40 Watt RGBL LED's to give an incredible output with increased color gamut. GLP's new iQ.Gamut calibration algorithm ensures the impression X5 creates clean white points with CRI 90 at 6500K and the ability to switch to other fixed color temperatures instantly, all calibrated exactly to the black body line.
With new super-fast zoom mechanics, the impression X5 offers a 17:1 range running from 3.5° to 60°, whilst a new front face with a circular design offers full pixel mapping and has been designed to include geometric patterns for stunning effects.
The impression X5 comes complete with an extensive feature package, including a virtual color wheel with referenced LEE Filters, a new color quality control, magenta / green correction, a tungsten emulation channel with multiple simulations, and a double layer effect option.
Featuring GLP's trademark baseless design, the impression X5 weighs just 29.3 lbs. / 13.3 kg with its design allowing users to easily add front accessories such as top hats or honeycomb shields.
The impression X5 can be controlled via DMX, ArtNet or sACN and can be set up using Near Field Control.
From the Fusion by GLP range will be the newly released FS16 Z batten fixture. Featuring an IP65 housing, this static linear unit shares the same dimensions, locking system and accessories as the popular Fusion Stick 10 and 20, but with an added motorized zoom of 8 to 40 degrees, full pixel mapping control and the innovative new Halo Ring.
The Halo Ring has been implemented at designers request and increases pixel visibility at all camera angles in TV applications. Whilst still being able to create narrow beam angles, each pixel remains visible when lit, no matter where the fixture is in relation to the camera.
The FS16 Z is a completely convection cooled fixture that adds to its attractiveness for both television and theatrical productions, and features built in options for both horizontal and vertical mounting to create stunning designs with minimal effort.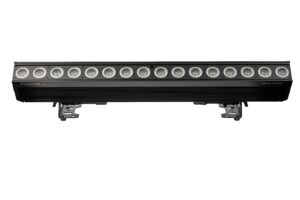 Scenex Lighting, a division of GLP US will be premiering a brand new range of flexible scenic LED called Shadow Line and incorporates a newly developed black housing for LED tape that makes it completely invisible when not turned on. The subtlety of the product design means that it opens up a whole new world of design options for scenic and production designers who want to incorporate set lighting, but don't want it to be a dominant element when not being used.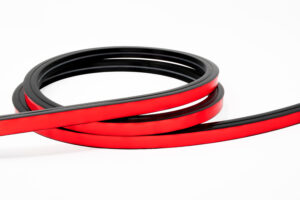 Shadow Line products in a wide variety of LED options including RGB and RGBW, with and without individual pixel control and in a variety of different voltage options.
Cosmic Truss will be displaying the new UBASE system that works directly with the popular UTORM ladder system that the company has previously developed.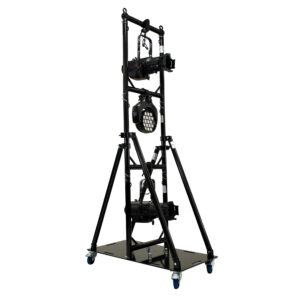 UBASE adds the ability for static and rolling ladder towers to be created and maneuvered with ease. Typically mounted with either static or automated lighting fixtures, the UBASE can just as easily be used with projectors or other AV equipment.
Whether in fixed sidelight positions, or for a flexible environment where lighting positions need to be repositioned quickly, the UBASE system adds ease to an existing product platform.
GLP can be found on the LDI show floor at booth #2640.